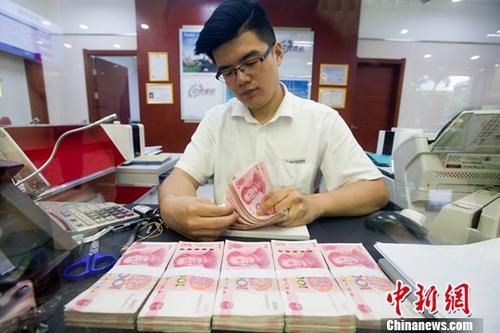 (File photo)
(ECNS) - The annual RMB loans in 2018 reached 16.17 trillion yuan ($2.4 trillion), up 2.64 trillion yuan year-on-year, according to the People's Bank of China.
Data released by the central bank on Tuesday showed a slowdown of real estate loans over the year.
China's outstanding social financing, a broader measure of credit in the economy, amounted to 200.75 trillion yuan in 2018, up 9.8 percent year-on-year. Outstanding yuan-denominated loans in the real economy went up 13.2 percent from a year ago to 134.69 trillion yuan by the end of 2018, central bank data showed.
Ruan Jianhong, head of the Statistics and Analysis Department at the People's Bank of China, said financial institutions increased credit funds to enterprises when compared with 2017.
Among them, medium and long-term loans to high-tech manufacturing companies grew by 33.1 percent year-on-year, 10 percentage points higher than the same period the previous year.
The growth of China's real estate loans fell steadily. As of the end of the year, outstanding loans in the sector reached 38.7 trillion yuan, a year-on-year increase of 20 percent, and a drop of 0.9 percentage points over the previous year.
Chinese banks extended 10.19 trillion yuan for real estate development in 2018, a rise of 22.6 percent year-on-year, or 5.5 percentage points higher than in the previous year. Outstanding individual mortgage loans also increased but at a slower pace.