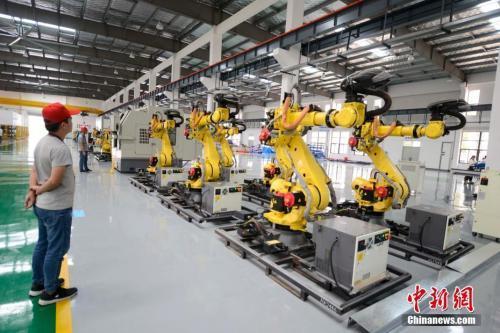 A robot manufacturing workshop in China. (File photo/China News Service)
(ECNS) - China rolled out its nationwide negative list for market access on Tuesday after starting a pilot program for the project in 2016.
The list was released by the National Development and Reform Commission (NDRC) and Ministry of Commerce, following approval by the Communist Party of China Central Committee and the State Council.
The new list includes two sections: banned access in four categories and access upon approval for 147 categories, involving 581 administrative measures. In comparison with pilot versions, the number of items and administrative measures was cut by 177 and 288 respectively.
China has decided to use a "negative list" approach, which will open all sectors except a prescribed few to investors to further improve the country's socialist market economy and let it play a decisive role in resource allocation in the economy, said a NDRC official.
The list, an institutional innovation, will treat all market players on a level playing field and let them have equal rules, rights and opportunities, it was added.
China started to pilot the scheme in regions including Tianjin, Shanghai, Fujian and Guangdong in March 2016. Regions using the experimental approach expanded to 15 in 2017.