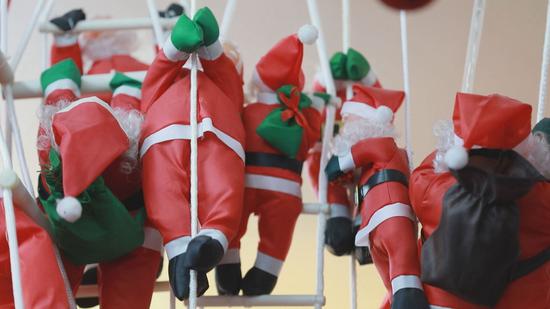 Many fear the ongoing U.S.-China trade spat will affect both businesses and consumers on a larger scale. /CGTN Photo
Bells will be ringing, but the news may not bode well for Christmas ornament manufacturers. Companies in southeastern China that make these Christmas-related gadgets have already started working on orders for the next year. 
But for some, the ongoing China-U.S. trade friction may mean decking the halls with something else next year. 
A holly jolly Christmas always shines with ornaments. But this year, Santa Claus is coming to town with less of Huang's toys and goodies. He takes the intensifying economic conflicts and sanctions among different countries as the culprit.
Huang Jinhe, the owner of Zhanbang Christmas, told CGTN that they can't export accessories to the Iranian market because of the U.S. sanctions on Iran. "Over 10 trading partners' goods were stored in my warehouse, which can be loaded into about three to four containers," said Huang.
Yiwu city in east China's Zhejiang province produces two-thirds of the world's Christmas decorations. 
Huang's company specializes in over 50,000-holiday accessories.
The U.S. imports an estimated 90 percent of its Christmas accessories from China. Huang says the American market accounts for about 30 percent of his total business. But in order to avert potential tariff effects, he has scaled back the design of new products for the American market, while making other plans for the upcoming uncertainty.
Huang Jinhe told CGTN that if the U.S. imposes tariffs on these ornaments, he will have to raise prices as he can't run the business at a loss.
Yiwu's 200-plus companies that make Christmas accessories agree that the U.S. is a big buyer.
Many are now exploring other markets, saying they can't stop production over policy issues.
They plan to adjust strategies to make sure everyone can rock around the Christmas tree again next year.