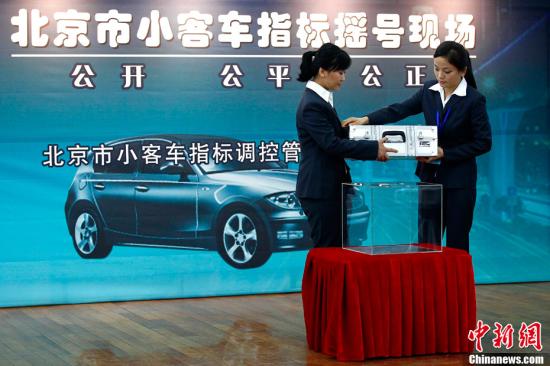 Two staff members announce results of vehicle plate lottery in Beijing. (File photo/China News Service)
(ECNS) - More than 3 million people are applying for license plates for fossil fuels cars in Beijing while another 393,014 are waiting to receive plates for new-energy vehicles by Oct. 8.
Data from a governmental office said the number of organization users to apply for the two kinds of cars reached 60,980 and 9,119 respectively.
Annual quotas of license plates for new energy vehicles, both reserved for individuals and organization users, have already been exhausted. These prospective buyers will be added to the existing pool of applicants and join the lottery system when the new quotas become available.
The office also said Beijing will issue 6,420 car plates for individuals and 266 for organizations in the lottery draw this month.
It also said a total of 4,681 discredited people, usually those who failed to perform their legal obligations, will be banned from participating in the car plate application.