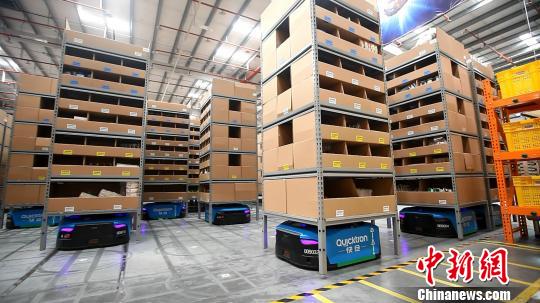 Robots are used in a storage center in Huiyang, Guangdong Province. (Photo/China News Service)
(ECNS) - E-commerce giant Alibaba is predicting a new record number of packages to be sent during Double Eleven Shopping Festival on November 11 following the increasing use of robots, said logistics affiliate Cainiao Network.
At a company workshop in Huizhou City, Guangdong Province hundreds of blue, shelf-carrying robots assist human workers to sort and pack goods as quickly as possible once consumers place orders online.
One robot can carry up to 250 kilograms in weight and flexibly turn around. Robots in the workshop can handle more than one million packages per day.
Studies show a human worker needs to walk 27,924 steps to sort 1,500 pieces in a conventional workshop over 7.5 working hours. But a smart warehouse robot allows a human worker to walk just 2,563 steps and sort 3,000 pieces.
China's courier delivery sector is undergoing a massive transition to embrace the use of robots and move towards automation. YTO Express has applied nearly 40 such sorting systems and renovated half of its package distribution centers to improve efficiency. ZTO Express has transformed 24 of its distribution centers to support automatization. STO Express's 14 new and renovated centers will increase daily package handling to 10 million pieces.
The number of orders generated through Alibaba's Tmall and Taobao e-commerce sites during the 24-hour Singles Day sales reached 812 million in 2017, 3,100 times higher than in 2009. 
China's major express delivery companies have also pledged to increase subsidies to couriers, while tens of hundreds of convenience stores and guards in residential communities are also expected to help deliver packages over the period.