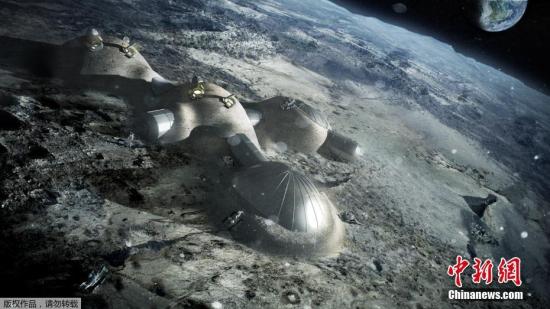 A 3D-printed picture of an imaginary moon base. (Photo/Agencies)
(ECNS) - Researchers at China Aerospace Science and Industry Corporation (CASC) said a Japanese company's plan to build a city on the moon visited by 10,000 people a year by 2040 sounded like a daydream, Science and Technology Daily reported on Thursday.
Tokyo-based ispace plans to develop a pair of missions by the end of 2020 to orbit and land on the moon, precursors for a more regular series of lunar lander missions. The Japanese startup has selected SpaceX's Falcon 9 for the scheduled launches and expected to begin developing propellant and sending it to spacecraft in space around 2030, said the company's CEO Takeshi Hakamada.
Yang Yuguang, with the Second Institute of CASC, said the goal would be unrealistic even in 2100 and ispace's plan was more like a fantasy when compared with the United States' space program, dubbed The National Space Exploration Campaign.
Under the plan, NASA's astronauts will go into lunar orbit by 2023 and land on the Moon by the end of the 2020s. Aerospace company Lockheed Martin has unveiled a spacecraft concept it says can launch four astronauts and 2,000 pounds of cargo to the moon.
Yang said the NASA plan also faces great challenges but was still plausible before 2030 due to its technological strengths, while the plans of the private ispace were hardly believable.
Yang said lunar projects can be extremely expensive and that's why no human being has set foot on the Moon since the last 1972 landing.
Yang also called ispace's suggestion that the moon will be visited by 10,000 people a year by 2040 a stunt to raise funds.
What would be great, would be human beings mining the moon by 2050, Yang said.