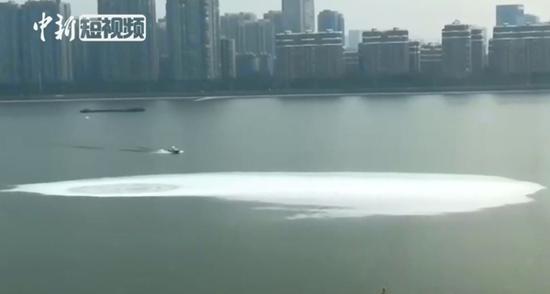 A huge whirlpool appears in Qiantang River in Hangzhou, Zhejiang Province, Oct. 17, 2018. (Photo/Screenshot on CNS TV)
(ECNS) -- A mysterious whirlpool in Qiantang River, which created an online sensation on Wednesday, was the result of naturally occurring methane gas and foaming agents used in the construction of a subway tunnel, according to experts.
Water rose from the riverbed to the surface, and white foam accumulated and spread across an area of 800 square meters in the Hangzhou City river, sparking speculations that ranged from it being a water monster to a stealthy discharge of polluted water to a safety incident related to the nearby Metro Line 5 construction site.
The whirlpool continued for about 20 minutes with many people sharing photos or videos online.
After being notified of the incident, local police investigated the site but found nothing abnormal. The city's water supply and natural gas authorities also reported no problems related to their pipeline facilities.
Experts later told Qianjing Evening News the phenomenon was a natural result of a combination of methane gas and environment-friendly substances used to increase lubrication while building the underwater tunnel.
Both the tunnel and shield tunneling machines are sound and safe, the report said.