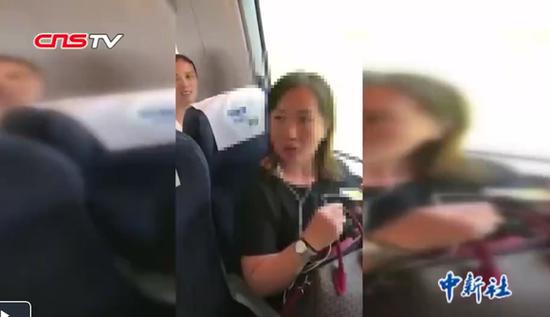 A woman takes another passenger's seat on a high-speed train and refuses to vacate it. (Photo/Screenshot on CNS TV)
(ECNS) - South China's Guangdong Province has passed a regulation, making it obligatory that train passengers take the seats specified on their tickets.
The regional law clearly stipulates that passengers must not occupy the seats of others.
It also says railway transport enterprises must implement a real-name system in ticket sales and verification and have the right to reject passengers who have no valid ticket or whose ID information is inconsistent with ticket information
The regulation urges railway operators to establish a management system for passenger social credit and report those who disrupt orderly transportation, endanger railway safety and other violations.
Departments and rail transportation enterprises will implement joint punishment in accordance with the law for acts of dishonesty, the regulation says. It also forbids flying unmanned aerial vehicles over railway lines.
Guangdong's move came after a series of conflicts over train seats made national headlines. In August, a man who took another passenger's seat on a bullet train and refused to leave has been banned from rail travel for an unspecified period of time and fined 200 yuan ($29).