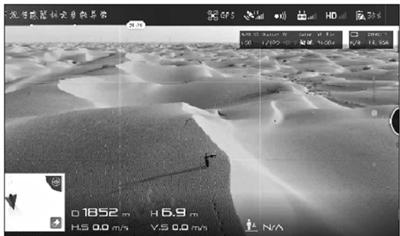 The camera footage of a drone shows a man who got lost in Taklamakan Desert. (Photo provided by Qiemo County police office)
(ECNS) - A tourist who got lost in Taklamakan Desert of Northwest China's Xinjiang Uygur Autonomous Region was found and guided to safety by a police drone, Beijing Youth Daily reported.
The 30-year-old man ventured into the desert during a break from driving in Qiemo County on Oct. 7. Without food or water, he only had a smartphone when he got lost, but the signal in the desert was unstable. His friend called police for help.
Local police entered one kilometer into the dessert but still couldn't determine the man's location. A police drone was then used to help in the search and rescue over a five kilometer radius.
After an hour, the tourist was found about two kilometers from the road. Police had to change the drone's batteries, then use the device to guide him.
Local police officers said the man was lucky because a sand storm or walking too deep into the desert could pose great risks.