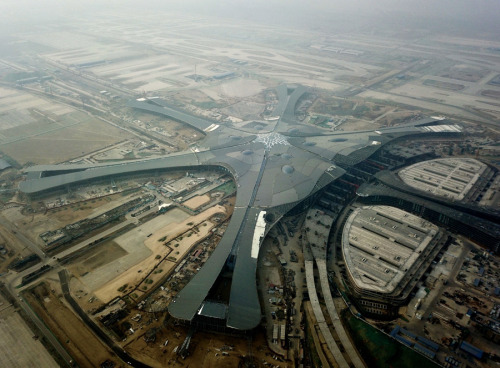 The roof of Beijing's new airport nears completion in January. Operations are to begin in October 2019. (Photo/Xinhua)
(ECNS) - Beijing Daxing International Airport, the capital's new mega airport, will be supported with an extensive transportation network featuring five north-south and two west-east lines, according to the city's top economic planner.
Located at the junction of Beijing's Daxing District and Langfang, a city in Hebei Province, the new airport will be a massive international hub comprising aviation, high-speed rail, rail transit and expressways, and also an important engine for regional economic development.
It is designed to take pressure off overcrowded Beijing Capital International Airport in the northeastern suburbs.
A new high-speed railway service, the Beijing–Xiongan intercity railway, is under construction to connect urban areas of Beijing, the city's Daxing District, the new airport and finally Xiong'an.
A new expressway started in December 2016 will open next May along with the high-speed railway's Beijing-Daxing airport section, said Beijing Development and Reform Commission, adding Daxing airport-Xiongan section will also undergo test operation.
Work on support roads and municipal infrastructure for the "5+2" transportation network has also made steady progress.