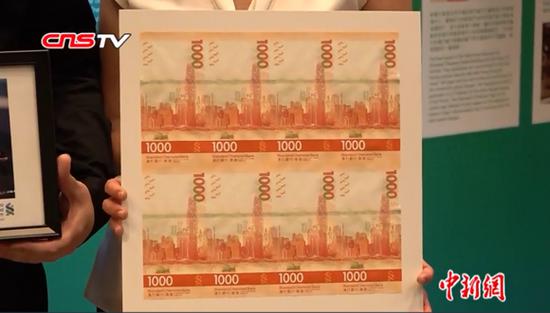 The Hong Kong Monetary Authority (HKMA) unveils new bills on July 24, 2018. (Photo/Screenshot from CNS TV)
(ECNS) - The Hong Kong Monetary Authority (HKMA) has unveiled new bills with advanced security features to prevent counterfeiting in cooperation with three note-issuing banks. They are Standard Chartered Bank (Hong Kong) Limited, Bank of China (Hong Kong) Limited, and The Hongkong and Shanghai Banking Corporation Limited.
The 2018 series of Hong Kong banknotes will consist of five denominations, each adopting the same color scheme. The selected thematic subjects represent various aspects of Hong Kong as an international metropolis, featuring its rhythm of life, recreation and entertainment, as well as its rich natural and cultural heritage.
The five denominations depict respectively the position of Hong Kong as international financial center (HK$1,000), the Hong Kong UNESCO Global Geopark (HK$500), Cantonese opera as an artform and cultural legacy (HK$100), butterflies that inhabit Hong Kong (HK$50), and the popular dim sum and tea culture (HK$20).
The new banknotes have incorporated six key features—dynamic shimmering pattern, windowed metallic thread, enhanced watermark, fluorescent see-through denomination, concealed denomination, and embossed feel.
Chan Tak-lam, Chief Executive of the HKMA, said the new series of banknotes make it difficult for counterfeiters to imitate or replicate.
Mary Huen, Chief Executive of Standard Chartered Bank (Hong Kong) Limited, said the design pays tribute to the "Hong Kong Spirit" and each banknote reflects a unique attribute of the Hong Kong people.
Gao Yingxin, Chief Executive of Bank of China (Hong Kong) Limited, said its new series of banknotes depicts the city's attractions and expresses a vision of building an even brighter tomorrow together.
The HK$1,000 and HK$500 notes will be put into circulation in the last quarter of 2018 and early 2019 respectively, while the lower denominations will be ready for issue in batches between 2019 and 2020.
All existing banknotes will continue to be legal tender. They will remain in circulation alongside the new banknotes, and will be gradually withdrawn as appropriate in due course, according to HKMA, which will also launch an extensive promotion campaign to raise public awareness of the new banknotes.