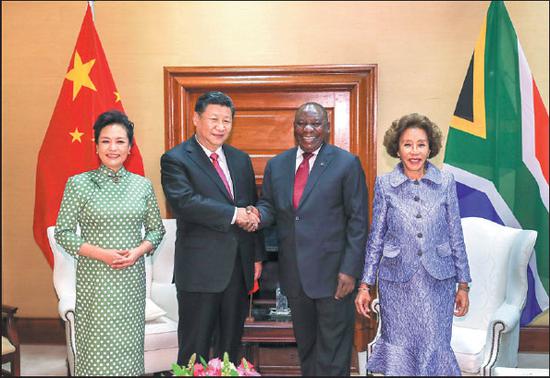 President Xi Jinping meets with his South African counterpart, Cyril Ramaphosa, in Pretoria, South Africa, on Tuesday. They are accompanied by Xi's wife, Peng Liyuan, and Ramaphosa's wife, Tshepo Motsepe. (Photo: Xie Huanchi / Xinhua)
Special: Xi Visits Five Arab and African Countries, Attends BRICS Summit
Following his state visits to the United Arab Emirates, Senegal, Rwanda and South Africa from July 19 to 24, President Xi Jinping is set to pay a goodwill visit to Mauritius on July 27-28. He is also attending the 10th BRICS summit in South Africa from Wednesday to Friday.
That Xi has chosen to visit Africa during his first overseas trip after being re-elected as the president of the People's Republic of China in March, just like he did in 2013 after he was first elected as president, demonstrates his high regard and strategic vision for Sino-African relations and the development of African countries.
Besides, China's engagement with African countries at the highest level will push the construction of a Sino-African community with a shared future to another level, and make the anchor to Sino-African relations stronger.
China and Africa have formed a community of shared interests featuring win-win cooperation. Far from being just an empty slogan or policy announcement, the Sino-African community of shared interests is based on the solid foundation of reality and history. Unlike many a country with a presence in Africa, China has developed a totally different relationship with the African countries, which has evolved and advanced in a way benefiting not only Africa but also China.
History shows that China has played a supportive role in African countries' fights against colonialism and imperialism and their struggles for national liberation, while Africa has supported China in getting back its lawful seat as a permanent member of the United Nations Security Council.
China strongly supports Africa's independent sustainable development and African countries' struggle to play a bigger role in international affairs. On its part, Africa resolutely supports China's development and prosperity, as well as the one-China policy. Over the years, China and Africa have established a comprehensive strategic partnership of cooperation, based on equality and mutual trust in politics, win-win cooperation in trade, exchanges and mutual understanding in culture, collaboration in security and solidarity and coordination in international affairs.
China has adhered to the principles of sincerity, practical results, affinity and good faith in its Africa policies, honoring its words with actions in Sino-African cooperation.
China remains committed to helping Africa clear its development bottlenecks in infrastructure, capital and talents while helping African countries explore a development mechanism and path that suit their own conditions through exchanges and mutual learning in governance.
Concrete collaboration between China and African countries has yielded some notable results, among which the changing skylines of a number of African cities, thanks to China's proactive support in developing infrastructure, including transportation, electricity and energy, are one of the most obvious. Sino-African cooperation has also provided Africa with an alternative to Western development philosophy and path, and has had a positive effect on African people's ideas, development philosophy, and perception of the world.
China has been Africa's largest trading partner for nine consecutive years, as well as its largest source of investment and financing. It has helped build about 6,500 kilometers of railways, 6,000 kilometers of highways, 20 ports, 200 schools, and 80 stadiums in Africa, while its investment and financing stock in Africa had crossed $100 billion by the end of last year. Moreover, Africa's development benefits China, too.
Xi's visit to Africa, the fourth in five years, will strengthen Sino-African relations and comprehensive cooperation. It will also help build more consensuses for the Forum on China-Africa Cooperation in Beijing in September, fostering a favorable environment for the introduction of more practical and effective development measures. As such, Xi's visit will help China and Africa build a more closely integrated community with a shared future and common interests.
The author Zeng Aiping is deputy director of the Department of Developing Countries Studies, China Institute of International Studies.