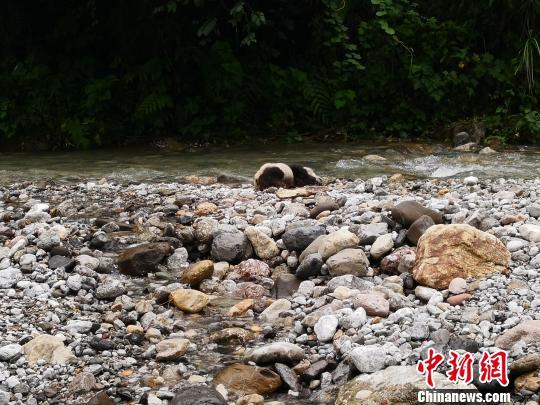 A giant panda cub is found drowned in China's Sichuan Province on July 3, 2018. (Photo: China News Service/Zhong Xin)
(ECNS) - Experts suspect that the death of a giant panda cub found in the Heishui River Nature Reserve in Sichuan Province was due to a recent rainstorm, said the Chengdu Forestry and Landscape Management Bureau.
Zhang Xueliang, a ranger at the reserve, found the body of the cub on a riverbank on July 3 and delivered it to Chengdu Wildlife Rescue Center. Experts, including members of the Chengdu Research Base of Giant Panda Breeding, examined it there.
The dead female cub was about half a year old and weighed 14.25kg, with a subcutaneous hemorrhage of the brain, air bubbles in the lungs and milk in the stomach. No pathological changes were found in other organs, according to experts.
Experts believe the panda cub accidentally fell into the water and died of drowning during a flash flood on July 2, when Sichuan was hit by the strongest and longest heavy rainfall of the year.