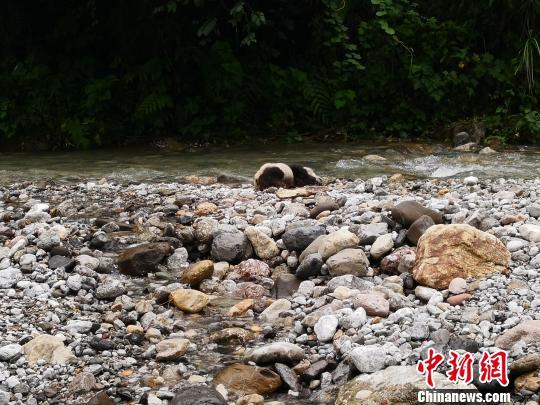 A giant panda cub is found drowned in China's Sichuan Province on July 3, 2018. (Photo: China News Service/Zhong Xin)
A giant panda cub has drowned in China's Sichuan Province, likely falling victim to a flash flood after days of torrential rain.
Zhang Xueliang, a worker at the Heishui River nature reserve, found a dead giant panda cub on a river sandbank near Yunhua village in Dayi county at about 1:30 p.m. Tuesday, the Chengdu forestry bureau said Wednesday.
Sichuan has been hit by heavy rain this summer over the past few days, prompting nature reserve workers to beef up patrols to be more aware of the conditions of the nature reserve and safety of the wildlife.
The nature reserve sent the dead cub to the Chengdu wildlife rescue center to find out the cause of the death.
The center found that the cub, about six months old and weighing 14.25 kg, may have accidentally fallen into the water after a flash flood and then been washed downstream to a sandbank after drowning.
Giant pandas mainly live in the mountains of northern Sichuan Province as well as southern Gansu and Shaanxi provinces.
Very low birthrates have been one of the major factors threatening the survival of giant pandas, as is habitat loss, though the species was downgraded from "endangered" to "vulnerable" by the International Union for Conservation of Nature in 2016, thanks to protection efforts by Chinese scientists.