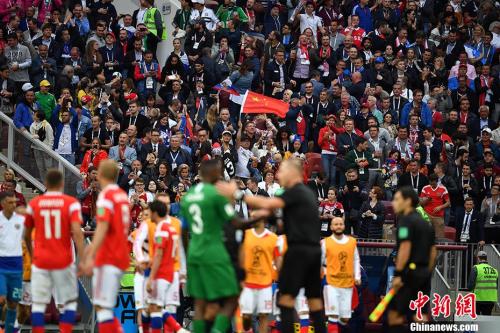 Chinese elements are seen at the 2018 FIFA World Cup in Russia. (Photo/China News Service)
Special: WorldCup2018
(ECNS) -- From Chinese company sponsors to made-in-China products and international players on the rosters of Chinese clubs, it's not hard for audiences to spot Chinese elements inside or outside the Russian stadiums, although the absence of the Chinese national team in the FIFA World Cup is a disappointment to fans.
FIFA divides sponsors into three levels: FIFA partners, World Cup sponsors and national supporters. Among the top 10 sponsors, seven are household names in China -- Dalian Wanda, the country's largest commercial property company and the world's largest cinema chain operator, Hisense, a multinational white goods and electronics manufacturer, and Chinese technology company VIVO. They are joined by Mengniu Dairy, electric bicycle manufacturer Yadea, and men's suit brand Diking.
Chinese companies have made history in the World Cup as major sponsors. According to research, they offered the largest sponsorship fees for the current World Cup, about $835.5 million, more than 30 percent of the total, twice the amount from U.S. companies ($400 million) and 13 times that of host country Russia ($64 million).
The contributions are not limited to money. The World Cup footballs, mascots, commemorative coins and other products all have the "Made in China" mark. Even 100,000 Chinese crayfish were transported to Russia to satisfy the appetites of fans. Foreign players in Chinese Football Association Super League clubs and flag bearers at the World Cup curtain-raiser also show the signs of China's rising influence.
"Football fans heading to the World Cup this summer are going to get an education in Chinese TVs, mobile phones, electric scooters and Mongolian dairy products," said a report from the Guardian newspaper in the UK.
Chinese companies have been able to achieve such breakthroughs for both internal and external reasons. The core attraction is that Chinese companies can go global with the World Cup, expand brand influence across borders and tap the international market.
Zhao Xianglin, the deputy general manager of Wanda Sport, said from the perspective of the entire international sports sponsorship market, more Chinese elements have begun to enter the world's highest level of sports, which proves the strength of China's overall economic development and its appeal in cultural soft power.
The quadrennial event has high advertising and communication value and is a big platform for spreading branding messages to billions in the global audience, said He Wenyi, executive director of Peking University's China Institute for Sports Value.
Due to factors such as the FIFA corruption incident, some previous sponsors chose to withdraw, and the loss of traditional sponsors provided opportunities for Chinese companies.
Chinese companies can afford the cost because they have a huge market behind them to support internationalization and globalization, so it is a historic moment and a natural choice for Chinese companies to join the sponsors' club, according to He.
FIFA's Chief Commercial Officer Philippe Le Floc'h said that FIFA will benefit from cooperation with Chinese companies to better engage with a new generation of football fans in China.
Looking back at history, companies from Europe, the U.S., Japan and South Korea had a large package of sponsorships for top international sports events such as the World Cup, but today this situation has changed completely.
In the South Africa World Cup in 2010, Yingli Solar became the first Chinese sponsor to place advertising in all the stadiums in a bid to give its brand a worldwide boost, alongside huge international companies such as Adidas, Coca-Cola and McDonald's. The process of Chinese companies participating in the World Cup is also a testimony to the growing influence of China's economy and a microcosm of China's increasing openness.
Over the past 40 years of reform and opening up, a large number of Chinese companies have risen quickly, with 115 Chinese companies now among the world's top 500 companies, a ranking that has grown for the 14th consecutive year.
The World Cup is not only a competition for football but also a battlefield for economic strength. He said the overall economic development of China is stable and the country already has more than 400 million middle-income people, so the growing number of football fans and consumption also fits the trend in development.