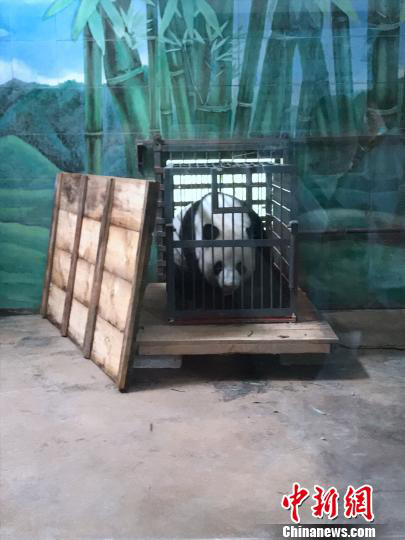 Panda Weiwei is ready to leave Wuhan Zoo for Sichuan Province. (Photo/China News Service)
(ECNS) - A keeper has been suspended from Wuhan Zoo after a giant panda he looked after appeared to have been abused.
The keeper was found to have shown a dereliction of duty, such as smoking, washing his hair while working and feeding improper apples to the panda.
The panda named Weiwei under his care showed some health problems, including a whitened nose and abrasions to the soles of its feet, according to the photos and videos published by Internet user @chier2014. Tourists also used sticks to poke Weiwei from outside its cage.
The zoo said the problem reported by netizens did exist and the keeper involved had been suspended for inspection and removed from the job. Another keeper with professional knowledge, dedication and a sense of responsibility is now looking after Weiwei, according to the zoo.
It is negotiating with related departments to send Weiwei back to the China Conservation and Research Center for Giant Pandas for recovery as soon as possible.
The health of Weiwei has been a concern of fans in recent years. On May 11, 2017, the center issued a letter to Wuhan Zoo, demanding a renovation to the panda's hall. Then on August 18, local authorities confirmed that a health check showed Weiwei suffering from loss of tyrosine due to its long captivity and lack of sun exposure. In January this year, the zoo announced a plan to build a new 1,019-sqm home for the panda but construction has not started.