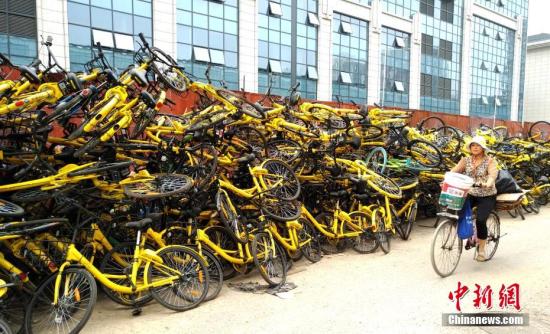 Shared bikes are piled along a road in Beijing. (Photo/China News Service)
(ECNS) -- Beijing authorities have vowed to further tighten administration over shared bicycles that have flooded the capital's streets, Beijing Youth Daily reported on Thursday.
The Beijing Municipal Commission of Transport said data showed that half of shared bicycles in some areas were not in service, leading to a huge waste, so more measures will be introduced to regulate the market.
By late April, Beijing had 1.9 million shared bicycles, a decline of 20 percent compared with the peak in September at around 2.35 million.
The Beijing Traffic Commission decided in September to prohibit additional shared bikes on the city's streets and to strengthen the management of existing bikes. According to the policy, companies can exchange their old bicycles with new bikes. Authorities have also banned electric shared bicycles.