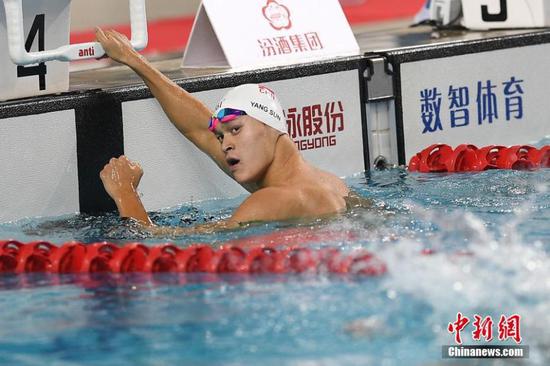 Sun Yang wins the gold medal in the men's 400m freestyle at the China Swimming National Championships in Taiyuan City, Shanxi Province, April 15, 2018. (Photo: China News Service/Wu Junjie)
This year, ESPN World Fame 100 list released on May 24 has included five Chinese players among the ranking of world's most famous athletes, based on a formula in terms of search scoring, social media following and endorsement fame.
Top-ranked has continuously been Portuguese footballer Christiano Ronaldo for a third straight years, followed by American basketball player Lebron James and Ronaldo's Argentine rival Lionel Messi.
Another interesting fact about the ESPN list is it involves 12 female athletes and only four female inside the top 50. Also, nominated players are mostly from the fields of tennis, swimming, and football, and the only driver on the list is four-time F1 world champion Lewis Hamilton who ranks 68th.
Among the five Chinese players, the highest ranked is swimmer Sun Yang, aged 26, ranked 17th with 32 million followers on social media. He is also praised for his full-year accomplishments with 15 gold medals snatched up during competing in four major domestic and international events in 2017.
Specifically, Sun has proved to be the undoubted king of freestyle since he has so far won gold in 200m, 400m, 800m and 1500m events. According to commentator Kevin Wang, Sun is regarded as the most influential flag-bearer of Chinese sports and the only athlete to be named on the 2017 Forbes China Celebrity List.
"I'd always like to think that I'm still young. I am willing to earn merits and write history for myself through working hard and overcoming struggles," said Sun.