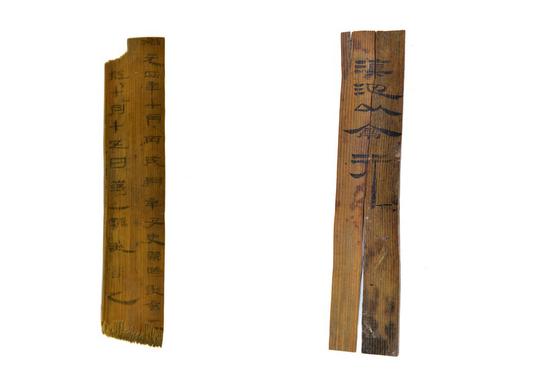 This combo photo shows bamboo and wooden slips unearthed from Hebosuo relics site dating back to the Bronze Age, in Kunming, southwest China's Yunnan Province. (Xinhua)
A trove of bamboo slips uncovered recently in Yunnan Province in southwest China would help decipher the administrative power of the central government of the Western Han Dynasty (202 BC-25 AD) over the Yunnan region, experts said.
Jiang Zhilong, a researcher at the provincial cultural relics and archaeology institute and leader of the excavation team of the Hebosuo site, said since 2021, more than 10,000 bamboo slips were unearthed from the site, among which over 2,000 were with written characters dating back to the Han Dynasty (202 BC-220 AD).
The archeologists also found house ruins and road ruins suggesting roads as wide as 12 meters at the Hebosuo site, Jinning District of Kunming, capital of Yunnan, a core residential area of the ancient Yunnan region.
The discovery indicates that the central government of the Western Han Dynasty exercised its administrative power over the Yunnan region at that time, serving as important physical evidence for the forming and development of a unified multi-ethnic China.
The bamboo slips unearthed from the Hebosuo site bear rich content with characters of proclamations, official documents, famous books, and letters, which are records for the study of administrative districts, official systems, tax and service systems, judicial systems, ethnic relations, traffic conditions, among others.