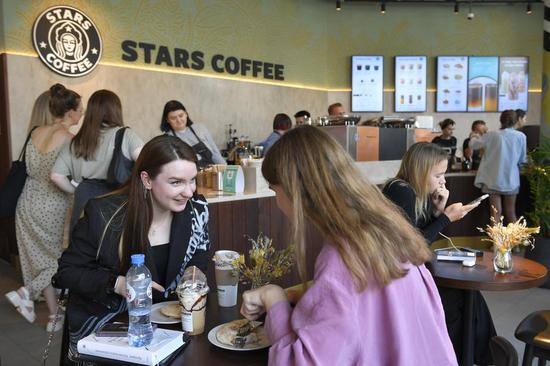 People sit inside the newly-opened Stars Coffee, a chain that opened in former Starbucks coffee shops in Moscow, Russia, Aug. 22, 2022. (Photo by Alexander Zemlianichenko Jr/Xinhua)
The Russian economy has withstood Western sanctions and performed "much stronger than the West believed," President Vladimir Putin said on Tuesday.
"We have ensured the stability of the economic situation, protected citizens, saved jobs, prevented market shortages, including essential goods, and supported the financial system and entrepreneurs," Putin said in his annual address to the Federal Assembly.
The latest data showed that Russia's GDP declined by 2.1 percent in 2022, beating an economic downturn of 20-25 percent predicted by Western analysts early last year, he noted.
The share of the ruble in Russia's international settlements has doubled compared with December 2021. Putin said that Moscow would continue to work with partners to form a stable and secure global payment system independent of the U.S. dollar and other Western currencies.
"The initiators of the sanctions are punishing themselves. They have spurred inflation in their own countries, loss of jobs, the closure of enterprises and an energy crisis. But they are telling their citizens that the Russians are to blame for everything," he said.