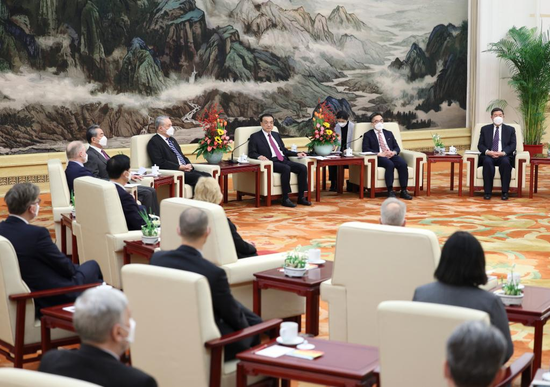 Chinese Premier Li Keqiang holds a symposium with foreign experts working in China at the Great Hall of the People in Beijing, capital of China, Jan. 18, 2023. (Xinhua/Ding Lin)
Chinese Premier Li Keqiang on Wednesday held a symposium in Beijing with foreign experts working in China.
Li extended Lunar New Year greetings to the foreign experts and their relatives, and thanked them for their contributions to China's reform, opening-up and modernization, and their contributions to promoting exchanges and cooperation with other countries.
Li said he hoped that foreign experts will give full play to their strengths and offer more advice and suggestions for the work of the Chinese government. Experts from countries such as Germany and Singapore shared their advice and suggestions during the symposium.
Li said the Chinese economy in 2022 made progress in coping with challenges and overcoming difficulties amid the combined impact of COVID-19 and other factors. He noted that China achieved reasonable economic growth for the whole year, and that it was higher than in 2020.
More than 12 million new urban jobs were created, which was better than expected, Li said, and consumer prices rose just 2 percent against the backdrop of high global inflation.
He said that China's economy continues to face many difficulties and challenges, but it is believed that with the implementation of optimized and adjusted COVID-19 prevention and control measures, China's economy will recover at an accelerated pace.
"We will further implement a package of policies and measures to stabilize the economy, growth, employment and prices, and strive to get economic operations off to a good start this year," the premier said.
Li stressed that China is committed to giving top priority to development, staunchly pursuing market-oriented reform, better protecting the rights and interests of foreign investors, boosting the confidence of private enterprises, and fostering a market-oriented and law-based international business environment.
He said China remains committed to its basic state policy of opening-up, and it will open up its domestic market further and expand market access for foreign investment.
"China is ready to learn from advanced technologies and management experience, continue extensive international cooperation with other countries, respond to common challenges facing the international community, and safeguard world peace, stability, development and prosperity," he added.
Li noted that the Chinese government welcomes more foreign talent to come and work in China, and will continue to improve the level of convenience and services for foreign experts working in China. ■