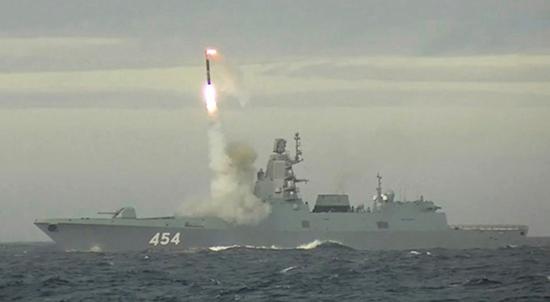 This screengrab of footage released by the Russian Defense Ministry shows that frigate Admiral Gorshkov test-fires a Tsirkon hypersonic cruise missile from the Barents Sea on May 28, 2022.
Russia's latest frigate Admiral Gorshkov with Tsirkon hypersonic cruise missiles on board embarked on a long-distance mission on Wednesday.
Before the warship's departure, Russian President Vladimir Putin heard reports by Defense Minister Sergei Shoigu and the frigate's commander via video link, the Kremlin said in a press release.
The modern multi-purpose vessel, which is capable of pinpoint and powerful strikes against naval and ground targets, would sail across the Atlantic Ocean, the Mediterranean Sea and the Indian Ocean, Shoigu said.
The Tsirkon missiles, which can fly at a speed of over Mach 9 and cover a range of over 1,000 km, are able to penetrate any air and missile defense systems, according to him.
The mission is aimed at countering any threats to Russia, maintaining regional peace and stability together with friendly countries, Shoigu said, adding that the crew would practice the use of hypersonic weapons and long-range cruise missiles in various environmental conditions.