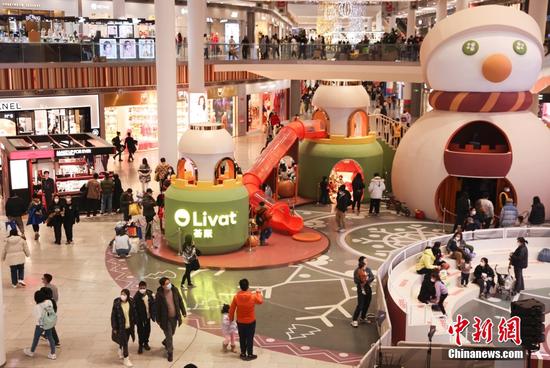 Citizens go shopping in Beijing on Jan. 2, 2022. (Photo: China News Service/Zhao Juan)
(ECNS) -- International media and think tanks have kept an eye on China's economy after the country optimized its COVID-19 measures in late 2022. ECNS found many of them remain positive about the country's economic rebound and what it is going to bring to the global economy.
The past three-day New Year holiday evidenced the forecast, with about 52.7 million domestic tourist visits, generating over 26.5 billion yuan (about 3.8 billion U.S. dollars) of tourism revenue, up 4 percent from the same period last year, according to China's Ministry of Culture and Tourism on Monday.
Some people in the Chinese cities of Beijing, Shanghai and Wuhan braved the cold and a rise in COVID-19 infections to return to regular activity, raising the prospect of a boost to the economy as more recover from infections, Reuters reported on Monday.
With China's latest optimization in COVID-19 response, restaurants, shopping malls and cinemas nationwide have reopened and reported burgeoning foot traffic, a sign that experts and international media believe bodes the revival of the country's consumption market in 2023.
CNBC reported in late December that analysts expect China's economy to bounce back sooner than previously forecast.
"With the easing of Covid restrictions, consumption is likely to see meaningful and sustainable recovery from next year," CNBC cited Hao Zhou, chief economist at Guotai Junan Securities as saying on Dec. 15, 2022.
China's domestic economic recovery momentum and optimized COVID-19 response to international travelers led to increasing expectations of what it would bring to the rest of the world in 2023.
Economist Intelligence Unit on Dec. 15, 2022, said they expect global demand for Chinese exports to recover in the second half of 2023, adding that China's economic momentum will witness a strong recovery sets during the second half of the year when the public health situation will be manageable.
Goldman Sachs reckons Thailand could enjoy a three-percentage-point boost to growth once China has fully reopened. That would remove the uncertainty that weighs on local asset prices, including the currency, says Arup Raha of Oxford Economics, a research firm. That, in turn, would reduce pressure on Thailand's central bank to raise rates—welcome freedom in a country where output is still below potential, the Economist reported.
Liu Tiancheng, a senior economist at United Overseas Bank, pointed out in an interview with Lianhe Zaobao that it is estimated that the year 2023 will bring an additional 2 billion Singapore dollars in retail sales to Singapore, adding that the return of Chinese passengers will give a significant boost in the tourism and retail industries.
China's recovery will lift global growth for the simple reason that China is a big part of the world economy, the Economist reported. According to its calculation, a recovering China could account for two-thirds of global growth in the first quarter of 2024.