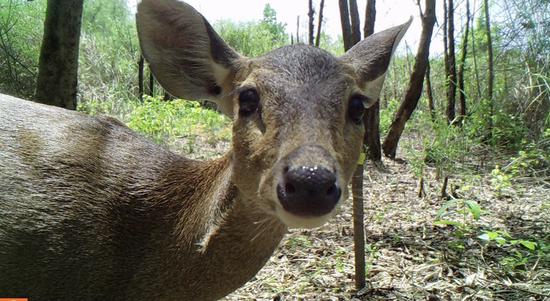 A hog deer is captured by a camera trap in the Prek Prasob Wildlife Sanctuary in Kratie, Cambodia in January 2022.(MoE/WWF/Handout via Xinhua)
Wildlife populations in tropical regions are plummeting at a staggering rate and freshwater species populations have globally been reduced by 83 percent, the World Wildlife Fund (WWF) said on Thursday.
There is no time to lose in securing a nature-positive society, it warned in the 14th edition of its biennial Living Planet Report 2022.
Across the globe, monitored wildlife populations of mammals, birds, amphibians, reptiles and fish have seen a devastating 69 percent decline on average since 1970.
In a video interview with Xinhua, WWF International's Director General Marco Lambertini said that "The figures are shocking and confirm the fact that our way of living, consuming and producing is just simply not sustainable. The impact on the natural world is immense."
"We need to restore what's possible and we need to sustainably manage the rest. That means we need to transition the 'Big Five' economic drivers of nature loss: agriculture, fishing, infrastructure, extractives and forestry from nature-negative to nature-positive practices," Lambertini said.
The data set in the report features almost 32,000 populations of 5,230 species.
The Living Planet Index (LPI) within the report, provided by the Zoological Society of London (ZSL), shows that between 1970 and 2018, monitored wildlife populations in Latin America and the Caribbean region declined by 94 percent on average.
It also revealed that in less than a lifetime, monitored freshwater populations have fallen by an average of 83 percent, the largest decline of any species group.
Habitat loss and barriers to migration routes are responsible for about half of the threats to monitored migratory fish species.
ONLY ONE CHANCE
The report was released on the eve of the 27th United Nations Climate Change Conference (COP27), to be held in Egypt's Red Sea resort city of Sharm El-Sheikh between Nov. 6 and Nov. 18.
"At COP27, our main focus is going to be supporting and pushing for more nature-based solutions to climate to be embraced by the governments and more climate finance to go towards supporting nature-based solutions," Lambertini said.
"In fact, nature is indispensable to achieving a net-zero result by 2050 because emissions reduction alone is not going to be enough."
COP27 will be followed by the 15th Conference of the Parties to the Convention on Biological Diversity (COP15) in Montreal, Canada, between Dec. 7 and Dec. 19 with China in the chair.
The WWF said it will be a once-in-a-decade opportunity to course-correct for the sake of people and the planet.
The organization is advocating for leaders to commit to a "Paris-style'" agreement capable of reversing biodiversity loss to secure a nature-positive world by 2030, Lambertini noted.
"We really hope that a global goal could be adopted so that we will have carbon neutrality on the one hand and secure a nature-positive world on the other," Lambertini said.
The authors of the report also called on policymakers to transform economies so that natural resources are properly valued.
"We need to invest more directly in supporting the global south and in protecting more of the nature they still have," Lambertini said.
"A mobilization of resources led by the north through different mechanisms from the private sector and multilateral banks is necessary to support more action in the global south for nature conservation and sustainable management."