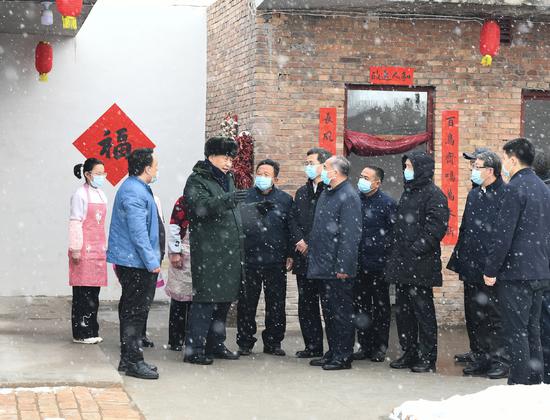 President Xi Jinping, who is also general secretary of the Communist Party of China Central Committee, talks on Wednesday with villagers in Huozhou, Shanxi province, during his inspection of the province ahead of Chinese Lunar New Year, which falls on Tuesday. (Xinhua/Xie Huanchi)
General secretary: Serving country's 1.4 billion people is great responsibility
Keeping the people in mind, Xi Jinping, general secretary of the Communist Party of China Central Committee, has been working hard to enable all Chinese people to live a better life and navigate the giant ship of China, steering on a steady course toward national rejuvenation.
With a global vision, Xi, who is also China's president and chairman of the Central Military Commission, has been promoting international cooperation for win-win results to build a community with a shared future for mankind.
As China's top leader, Xi said that serving the 1.4 billion Chinese people and working with them for a better life is a great challenge and a great responsibility. "I shall put aside my own well-being and live up to people's expectations," he told United States President Joe Biden during a virtual meeting on Nov 16.
Under his leadership, China has eliminated absolute poverty in rural areas, with around 100 million poverty-stricken people in countrysides lifted out of penury, and it has completed the building of a moderately prosperous society in all respects and is embarking on a new journey to become a modern socialist country by the middle of this century.
One month after he was elected general secretary of the CPC Central Committee in November 2012, Xi braved the winter cold to visit poor villagers in Hebei province. Sitting down with them, he asked about their income, and if they had sufficient food and enough quilts and coal to stay warm through the winter. Xi said his heart sank when he saw that some villagers were still struggling to make ends meet.
Since then, on his inspection tours nationwide, he always visits poverty-stricken villagers to learn about their difficulties and help them resolve problems. Over the past nine years and more, Xi has visited all the provinces, municipalities and autonomous regions on the Chinese mainland, including very poor villages in mountainous areas.
Raphael Tuju, secretary-general of Kenya's ruling Jubilee Party, said China's poverty reduction achievements are a great miracle, and the people-centered development philosophy of the CPC with Xi at the core precisely illustrates how the miracle was created.
"China has eliminated poverty 10 years ahead of the schedule stipulated by the United Nations, and this has happened before my eyes," Tuju said. Under Xi's leadership, China is a welcome development in the world today, he added.
China's strength had significantly risen after more than 30 years of reform and opening-up. Yet, it was not without problems, including downward pressure on the economy, wealth disparities, environmental damage and social problems.
Modernization model
At a critical moment for China's development, Xi proposed a Chinese model of modernization characterized by a new development philosophy featuring an innovative, coordinated, green and open development path that is for all. Based on the new development stage, he called for upholding the new development philosophy and fostering the new development paradigm in order to pursue high-quality growth for the country.
From 2013 to 2020, China's GDP grew about 6.4 percent each year on average, contributing more than 30 percent of world economic growth on average for many years in a row. China's GDP exceeded the 100 trillion yuan ($15.8 trillion) threshold in 2020, or about seven-tenths that of the United States.
In 2021, China ranked 12th in the Global Innovation Index, higher than Japan, Israel, and Canada. It is the top recipient of foreign direct investment and the world's No 1 consumer market.
Yuri Tavrovsky, a renowned Russian Sinologist who has visited China many times and has written many reports on the Belt and Road Initiative, said that President Xi is a leader who provides inspiration and long-term goals to his people and designs the path to achieving those goals. "He plays a role recognized by all the members of the CPC and the Chinese people," Tavrovsky added.
Vision wins acclaim
From the BRI, which was proposed in 2013, to the Global Development Initiative that was presented to countries around the world last year for participation, Xi's global vision of promoting true multilateralism and international solidarity and cooperation to overcome common challenges and to seek mutually beneficial, win-win results has won acclaim from the international community.
Tavrovsky said that in this era full of complexities and contradictions, the BRI unites nations around the world and bears abundant significance in history and civilization.
Gulnar Shaimergenova, an international relations researcher and director of the China Studies Center in Kazakhstan, said the BRI has provided a great opportunity for Kazakhstan to export its products to other Asian countries, offering broader prospects for the country to develop closer economic and trade ties with other countries.
She said that President Xi is a leader with great foresight, and under his leadership, a progressive China, an open world and a promising future are there for all to see.
Since the onset of the COVID-19 pandemic, Xi has called for global solidarity and cooperation to fight the virus. Under his instruction, China provided anti-virus materials for more than 150 countries and 14 international organizations. He also pledged to make Chinese COVID-19 vaccines a global public good.
China has sent a total of more than 2 billion vaccine doses so far to over 120 countries and international organizations. It will provide an additional 1 billion doses to African countries, including 600 million donated doses, and will also donate 150 million vaccine doses to ASEAN countries, Xi announced at the 2022 World Economic Forum Virtual Session on Jan 17.
Altay Atli, a scholar based in Istanbul, Turkey, said that under Xi's leadership, there is a transformation of China's participation in international affairs, whether economic or diplomatic. The world is witnessing the emergence of a major country with global influence, Atli added.