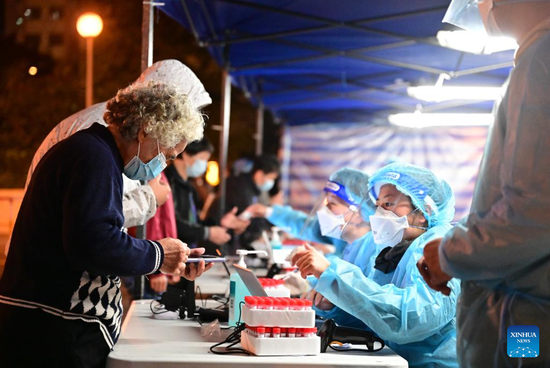 A medical worker registers personal information of a woman at a COVID-19 testing site in Hong Kong, Jan 24, 2022. (Photo/Xinhua)
Special: Battle Against Novel Coronavirus
100 million self-test kits to be allotted; inflatable laboratory boosts capacity
Hong Kong is focusing on overcoming bottlenecks in its virus-testing capacity and quarantine facilities to curb the city's worst COVID-19 outbreak, with initiatives such as procuring 100 million self-test kits and adding thousands of quarantine rooms.
Despite the severe situation, Hong Kong Chief Executive Carrie Lam Cheng Yuet-ngor said on Tuesday that dynamic zero infection is still the government's goal, and surrendering to the virus is not an option.
The city restarted the Huoyan inflatable laboratory at Ma On Shan on Tuesday to increase daily testing capacity to 300,000, and its legislature passed a sixth round of anti-pandemic funding totaling HK$27 billion ($3.46 billion) that is expected to benefit 67,000 businesses and 750,000 individuals.
On Tuesday, the city logged 1,619 new COVID-19 infections and around 5,400 preliminary positive cases. Cheung Shuk-kwan, head of the Centre for Health Protection's communicable disease branch, said the city's testing laboratories have been overloaded and can only finish the testing of 75 percent of samples each day. More workers have been mobilized to speed up the process, Cheung added.
Lam said the 100 million rapid test kits, one measure to improve testing efficiency, would start to arrive in the city this week, with the first batch to be distributed to staff members at care homes for the elderly and disabled.
The self-test kits allow people to have a rapid antigen test for COVID-19 by directly detecting virus proteins in their respiratory tracts, and can help cut the testing time to less than 30 minutes.
Care home workers were previously tested every three days, but once they receive the kits, they will be able to be tested every day, Lam said.
One of the major suppliers of the kits is based in neighboring Guangdong province. Lam said it would strive hard to ensure stable supply, and the public would not need to worry about shortages.
The Hong Kong Special Administrative Region government is also going to convert 3,000 public housing units at Queen's Hill Estate and Lai King Estate for quarantine purposes, as the city's existing facilities have been overwhelmed by the surge in confirmed COVID-19 cases, she said.
A plan will also be formulated with hotel industry leaders to provide over 10,000 more hotel rooms for isolation, she said. University dormitories are also on the radar as potential venues for medical quarantine, but that requires further discussions with related parties, Lam said.
To reduce the pressure on hospitals, the Hospital Authority designated seven clinics on Tuesday to help treat COVID-19 patients with mild symptoms, with a total patient quota of 1,000 a day. The arrangement will take effect on Wednesday.
Hong Kong respiratory specialist Leung Chi-chiu said the instant virus-testing results provided by self-test kits could help accelerate the testing process for high-risk groups like care home staff members.
He said the government should also distribute the kits to more high-risk groups who are required to get tested every day or to those who cannot reach a testing center, such as people in home quarantine.
Leung also welcomed the government's efforts to provide more quarantine facilities, saying virus testing would be "meaningless" if infected people could not be isolated.
He said home quarantine could also bring risks to the community, given the strong infectious ability of the Omicron strain of the novel coronavirus, adding that increasing the number of quarantine rooms should still be the government's top priority.
Leung said the designated clinics would have limited effects as some patients' situations may need to be observed for a relatively long time-even days. That would be hard to achieve in such facilities, he said.
In the long term, he suggested the authorities set up more temporary medical centers in communities to offer basic medical services.