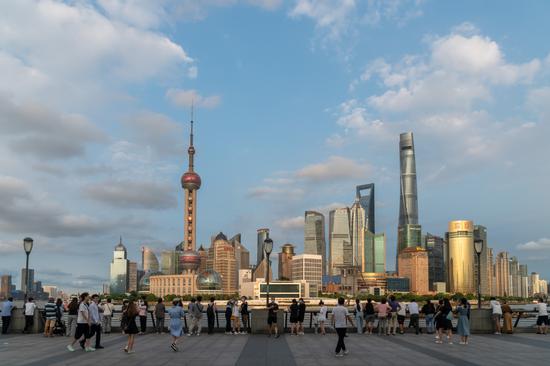 Tourists admire views at the Bund in Shanghai in September. (Photo: China Daily/Wang Gang)
Themed on adapting cities to become climate resilient, the national observance of World Cities Day in China will be held in Shanghai from Oct 30 to Nov 1, during which the first Sustainable Development Goals Cities Global Conference will take place.
Organized by the Ministry of Housing and Urban-rural Development of China, the Shanghai government and the UN-Habitat, the event aims to encourage effective climate conservation practices at national and local levels by sharing solutions to help cities improve their resilience.
Activities will include an opening ceremony, a closing ceremony and five forums centered on low-carbon economy, urban historical and cultural protection and inheritance, city governance, ecological resilience and the construction of New Cities in Shanghai's suburbs.
Topics covering high-quality development of cities in China, real estate appraisal, international cities and construction industry will be discussed in three other forums.
Achievements in urban construction and governance and sustainable development practices in Shanghai and other domestic cities will be showcased at exhibitions held during the event as well.
According to Yao Kai, director of the Shanghai housing and urban-rural development management committee, a handbook illustrating exemplary cases on sustainable development in the fields of economy, society, environment and culture in Shanghai in the 21st century will be released during the event.
In addition, a Shanghai self-evaluation report on the implementation of the United Nations 2030 Agenda for Sustainable Development, along with books on exploration and practices of city construction in Shanghai in the new era, will be presented to the public.
The UN had in 2013 declared Oct 31 as World Cities Day, an annual event aimed at creating public awareness about the importance of global sustainable development.