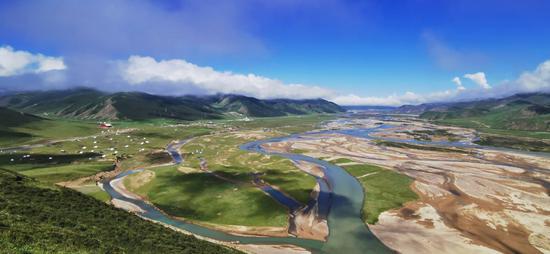 A bird's-eye view of Sanjiangyuan National Park, Qinghai province. (Photo: chinadaily.com.cn/Fan Yongtao]
Dubbed "the water tower of China," Qinghai is home to the Sanjiangyuan (Three-River-Source) area, where the three major rivers -- the Yangtze River, the Yellow River and the Lancang River -- originate.
Two percent of the total water volume of the Yangtze River, 49 percent of the Yellow River and 17 percent of the Lancang River come from Sanjiangyuan area.
Sanjiangyuan area is an important source of freshwater resources in China. More than 60-billion-cubic-meter clean water is sent downstream each year, and the volume has increased in recent years. In 2018, the amount of outbound water reached 72.6 billion cubic meters.
Sanjiangyuan National Park, built on the source of the Three Rivers, is located in the southwest of Qinghai province, with a total area of 123,100 square kilometers. Sanjiangyuan National Park is China's first pilot project of national park system.
Since the trial of the Sanjiangyuan National Park, water conservation has increased by more than 6 percent annually, and grassland coverage and grass production have risen by more than 11 percent and 30 percent, respectively, compared to 10 years ago.