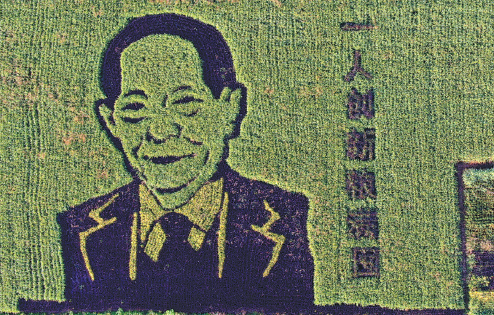 An aerial view of rice grown to create a portrait of the late agronomist Yuan Longping at an agriculture park in Nantong, Jiangsu province, on Tuesday.(Photo/CHINA DAILY)
On a sultry summer's day in 1961, Yuan Longping, the celebrated agronomist whose death in May was widely mourned across China, was inspecting a test field in central China's Hunan province, when he came across a single rice plant bearing 230 grains.
It dwarfed the other plants in the field, and Yuan thought he may have found a naturally high-yield strain of rice.
Yuan, teacher at a nearby agricultural school, collected its grains and planted them the following year. He was hoping to find a way to boost rice yields at a time of severe food shortages in the nation.
To his disappointment, although the resulting plants demonstrated a variety of useful traits, none was as productive as the parent. With a background in genetic engineering, Yuan, then in his early 30s, concluded that the parent must have been a hybrid.
"If natural hybrid rice had such a strong advantage, then artificially created hybrid rice should also have an advantage," he wrote in an article published in 2019 in People's Daily.
At that time, it was widely believed that rice could not be hybridized. Rice is a self-pollinating crop, and it is difficult to remove the male flowers and crossbreed them one by one.
To develop hybrid rice, it was necessary to find a sterile male plant and then use it to crossbreed with other varieties. Believing that there must be naturally occurring sterile males, Yuan decided in 1964 to seriously study the possibilities.
Breakthrough
The first breakthrough came in 1970, when his team found a stretch of wild rice near a rail line on Hainan Island, China's southernmost province which was part of Guangdong province then. It led Yuan to publish a paper explaining how genetic material from wild strains could be married with commercial strains.
After painstaking research and testing, the team successfully developed a hybrid-rice strain in 1973 during the upheavals of the "cultural revolution" (1966-76), and it was used in large scale cultivation.
Yuan's dedication greatly boosted harvests in the country-where about 20 percent of the world's population lives on less than 9 percent of the world's arable land-and beyond.
According to the China National Hybrid Rice R&D Center where he worked, some 8 million hectares of hybrid rice have since been grown in more than 60 countries.
In 2017, the output of hybrid rice in China reached 7.5 metric tons per hectare, compared with 4.61 tons globally.
Dubbed the "father of hybrid rice", Yuan became a source of national pride and a symbol of dogged scientific pursuit. In 1999, an asteroid discovered by China was named after him in a nod to his contribution to national food security. In 2004, he won the World Food Prize, and in 2019, the Medal of the Republic, China's highest state honor.
Yuan, who spoke English, was the subject of a 2009 film, in which he said: "Hybrid rice technology belongs not only to China, but also to the rest of the world. As long as I live, I will never stop pursuing and dreaming about super high-yield rice."
Talent
Thursday marks the fourth Chinese Farmers' Harvest Festival, which is held each year on the autumnal equinox during the September harvest season.
Last year, in his capacity as an ambassador of the festival, Yuan hosted a livestreaming session to encourage young people to study agriculture, a theme of many of his final speeches.
"Modern agriculture is not like it was in the past," the academician at the Chinese Academy of Engineering said. "It is high-tech, and there's no toiling in the fields, dealing with soil all day long. It is mechanized, electrified and intelligent."
The festival was first launched in 2018 and was made a statutory event in the Rural Vitalization Promotion Act this year, which also stressed the need to bolster agricultural talent.
Addressing a crowd of freshmen in 2019 at Hunan Agricultural University in Changsha, capital of Hunan, Yuan encouraged them to shoulder the responsibility of rejuvenating the Chinese nation by developing new agricultural techniques and methods.
Knowledge, sweat, inspiration and opportunity were his secret recipe for success, he said. "Sweat means the ability to bear hardship. Scientific achievements depend on meticulous and hard work," he said.
Food security
Yuan once said that one of his lifelong wishes was to train people from all countries, especially developing countries. He was born in 1930 in Beijing-or Beiping, as it was then known-and as a child, he witnessed the damage caused by 14 years of Japanese aggression, which led to widespread despair, impoverishment and hunger.
As a result, he decided to study agriculture at college. After graduation, he taught at an agriculture school in a remote part of Hunan.
Between 1959 and 1961, China experienced severe food shortages, prompting him to devote himself to research that would help the country feed itself.
Once his hybrid rice technology started being adopted nationwide in the mid-1970s, Yuan turned his attention to creating a strain of super hybrid rice.
Eventually, his research paid off. In 2000, 2004, 2011 and 2014, test plots of hybrid rice produced 10.5 tons, 12 tons, 13.5 tons and 15 tons of yields per hectare, respectively. As it is still being researched, super hybrid rice is not yet being commercially grown.
In the 2009 film, Yuan spoke to a foreign reporter about a dream he'd had a few years earlier.
"I saw my super hybrid rice plant growing as high as sorghum. The panicle (head of rice) was as large as a broom, and the grains as big as peanuts. I was very happy to rest under them with my assistant."
In recent years, China has stepped up the creation of high-standard farmland for grain production to promote large-scale mechanical farming.
Officials estimate that this will increase yields by 10 to 20 percent and cut costs by as much as 7,500 yuan ($1,159) a hectare.
As a major grain producer, the world's largest food importer and its second-largest exporter, China has also placed greater emphasis on curbing food waste and loss in recent years.
The National People's Congress, the country's top legislature, enacted an Anti-Food Waste Law in April and stepped up publicity about the issue.
The International Conference on Food Loss and Waste also opened this month in Jinan, capital of Shandong province, to bolster global cooperation on the issue.
"Every grain is hard-won, and from sowing to harvest, each has absorbed the essence of heaven, Earth, the sun and the moon, and has been watered by the sweat of farmers," Yuan said in an interview with Xinhua News Agency last year.
"Increased grain production is a joy. But how painful it is to see the food produced being wasted."