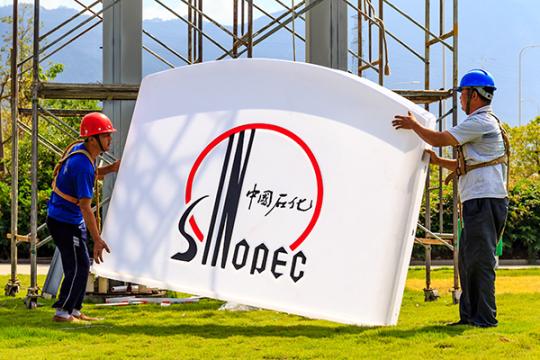 Workers change the billboard at a Sinopec gas station in Fuzhou, Fujian province. (Photo/China Daily)
How many carbon emissions will be generated if 30,000 metric tons of crude oil, mined from Angola, West Africa, is transported all the way to China, made into refined oil products, and finally burned by terminal facilities?
Three Chinese companies, China Petroleum &Chemical Corp (Sinopec), China COSCO Shipping Corp Ltd, and China Eastern Airlines, have cooperated to calculate carbon footprint and offset emissions of the crude oil journey, marking the first of its kind ever certification to be issued in the world.
The certification ceremony was held on Wednesday, and the three companies were given certificates by Shanghai Environment and Energy Exchange, China's first environment and energy product trading platform authorized by Shanghai municipal government.
Lyu Dapeng, a Sinopec spokesperson, created a metaphor to explain the company's move. Lyu said the process of extracting crude oil, refining and processing, as well as consumption of refined oil were like "overdrawing the allowance of carbon emissions from their credit card in the bank of environment around the world", and the move was to cover the overdraft to make their carbon account balance.
Lyu said the cost of calculating and offsetting carbon emissions will be borne by the three companies, and will not lead to a price rise for retail oil.
According to Lyu, Sinopec will gradually expand the proportion of refined oil and chemical products that are carbon-neutral in the future.