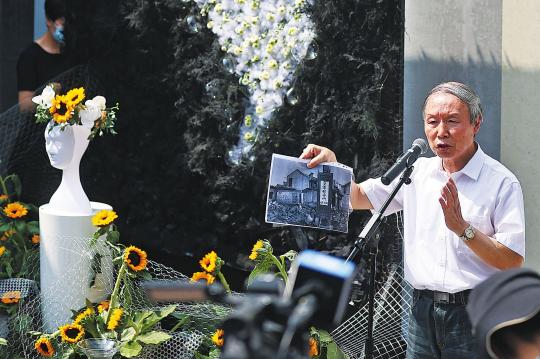 Su Zhiliang, a professor at Shanghai Normal University, displays evidence at an exhibition on Saturday in Nanjing, Jiangsu province, of the monstrous crimes of forced recruitment of "comfort women" by the Japanese troops during World War II. (Photo: China News Service)
Granny Luo hides a pair of scissors under her pillow every night. Only by doing that can she fall asleep.
The woman, who was born in 1922, lives in Chenzhou, Hunan province. She once was among those forced by the Imperial Japanese Army to become "comfort women" – something for which the Japanese government has never acknowledged responsibility.
Luo told Liu Guangjian, a worker at a museum founded on the former site of a "comfort women" station at Liji ane in Nanjing, Jiangsu province, that she could never forget what happened to her, and the sharp scissors give her a sense of security.
"The victims have suffered lifelong trauma," said Liu, who along with his colleagues has been tracing the victims since 2016. "Many of them had no children due to physical and psychological damage."
"Comfort women" were forced by the Imperial Japanese Army into sexual slavery before and during World War II. More than 200,000 women in China and more than 100,000 on the Korean Peninsula were forced into sex slavery, according to the Memorial Hall of the Victims in Nanjing Massacre by Japanese Invaders.
An exhibition titled "The Crimes of the Japanese 'Comfort Women' System-Centered on China and the Korean Peninsula" opened at the memorial hall on Saturday. A large amount of evidence, including photographs and testimony, will be exhibited until April.
Zhang Jianjun, curator of the memorial hall, said that the solid evidence of the "comfort women" system cannot be denied.
"We held the exhibition to call for people to remember history, be self-reliant and maintain peace," said Zhang.
Su Zhiliang, a professor at Shanghai Normal University and director of the university's Research Center for Comfort Women, said the Imperial Japanese Army established at least 1,000 "comfort women" stations in China.
"We have confirmed more than 70 in Nanjing, 172 in Shanghai, 174 in Zhejiang province, 90 in Hainan province and 200 each in Shandong and Hubei provinces," he said. "More than 20 of China's provinces and municipalities had the stations. We also confirmed the identities of more than 300 victims across China, but only 14 of them are still alive."
"My research is about the tragedies and struggles of ordinary people," Su added. "Each of them had a heartbreaking story. Their testimonies are solid evidence of the existence of 'comfort women'".
"The research results have been published in several countries, including South Korea and the US," he said. "Though Japan destroyed a large amount of evidence related to 'comfort women' in the late stage of World War II, at least our 30 years of research recorded the real history."
The "comfort women" issue was not known to the world until Aug 14, 1991, when a victim from South Korea stepped out to tell about her experience.
Since then, researchers have published many books about the issue, and four museums have been established in China's Nanjing, Shanghai and Heilongjiang and Yunnan provinces, according to Su.
"Before the Imperial Japanese Army established the 'comfort women' system, no sovereign country in human history had ever used women as sexual tools to encourage and stimulate soldiers to fight," Su said.
He added that Japan's attempts in recent years to delete any mention of the "comfort women" issue from their textbooks and deny the issue show that the Japanese government has not reflected thoroughly on the country's past.
It continues to deny the issue "in every possible way" and has neither apologized to nor compensated the victims, Su said.
Liu, the museum staff member, said: "The victims are very old and not in good health. We're racing against time to trace and record the victims. The history will be known to more people."