Special: Battle Against Novel Coronavirus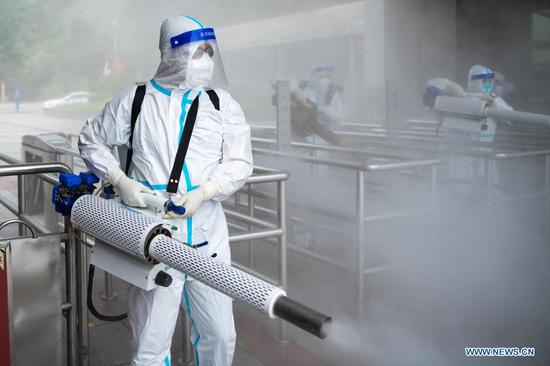 Staff members disinfect the entrance of the Tianmen Mountain scenic spot in preparation for its reopening in Zhangjiajie, Central China's Hunan province, Aug 26, 2021. (Photo/Xinhua)
Chinese experts said the accusation that the country is reluctant to share raw data regarding the early days of the COVID-19 pandemic is unfounded, as there seem to be misconceptions among some foreign politicians and media regarding the definition and application of raw data in scientific inquiry.
This allegation has recently been reignited as United States media reported that a classified U.S. intelligence report, commissioned by U.S. President Joe Biden in May, was inconclusive about the origins of the COVID-19 pandemic due to a lack of information from China.
Some foreign politicians and media have long accused China of being tight-lipped on information related to the COVID-19 pandemic, especially in the early days of the outbreak. Questions about data transparency were also raised during the news conference in March by the Chinese experts from the World Health Organization's COVID-19 origins investigation mission in China.
Liang Wannian, team leader of the Chinese side of the WHO-China joint team studying the origins of COVID-19, said the speculation that China did not provide raw data to the joint research team is unfounded.
First, Chinese experts worked closely with their foreign peers when analyzing data and conducting research during the WHO's mission. "There is no discrepancy between the information that Chinese and foreign experts received," Liang said during the news briefing.
Second, raw data tends to be extremely cumbersome and fragmented, making it difficult to analyze. As a result, he said Chinese scientists had sorted and reorganized the raw data and made it more accessible for the joint research team to save valuable research time.
"It is an arduous process to turn raw data into something that can be analyzed," he said. "You cannot expect experts to arrive on the scene and review every case, every animal sample and every early record. It is impractical and unnecessary for scientific research."
Therefore, Liang said it was crucial to provide usable data so that the joint research team didn't have to sift through hundreds of thousands of documents during their visit.
As for data on the 174 COVID-19 patients identified in China in December 2019, Liang said at a news briefing last month that the patients' data was displayed and shared during the WHO's mission in Wuhan, Hubei province.
However, China has laws and regulations to protect patient confidentiality, so it cannot give away the original data or allow foreign scientists to make copies or take photographs. "At the time, international experts said they fully understood and believed this was an international practice, not just in China," he said.
At another news briefing on Aug 13, Liang said the China-WHO joint research team had conducted in-depth, multifaceted epidemiological analyses using data on 174 early COVID-19 patients during their mission, and the conclusions were recognized by experts from both sides.
A Shanghai-based epidemiologist who requested anonymity said foreign politicians' requests for raw data on China's earliest COVID-19 cases and information to address the lab leak hypothesis are less about data transparency, and more like a "vote of no confidence" in the Chinese authorities and the nation's scientific community.
"Foreign politicians suspect the organized data that our scholars presented had left out critical information. Therefore, they want access to all our raw data so that their scientists can comb through it and find clues to suit their narrative," the expert said.
The expert added that the demand to access all data, as advocated by the WHO in a statement this month, is impractical for several reasons. These include translating a massive amount of highly technical documents, legal barriers on personal and sensitive information, evaluating the quality of data entries and ensuring data security.
"The biggest concern I have is that no amount of raw data may be enough to change the minds of politicians and conspiracy theorists determined to champion the lab leak hypothesis and pin the blame for the pandemic on China."