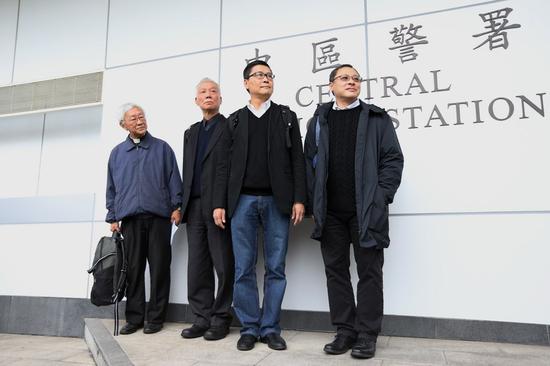 Benny Tai (R1) surrenders himself to a police station in Hong Kong, south China, Dec. 3, 2014. (Xinhua/Lui Siu Wai)
The Liaison Office of the Central People's Government in the Hong Kong Special Administrative Region (HKSAR) on Tuesday expressed support for the University of Hong Kong (HKU) in dismissing Benny Tai Yiu-ting, an organizer of the 2014 illegal "Occupy Central" movement.
The decision of the governing council of the university to dismiss Tai, based on the University of Hong Kong Ordinance and strictly following related procedures, helps restore normal teaching order and a sound campus environment and shows that the university shoulders the responsibility to the entire society, a spokesperson of the office said in a statement.
As a faculty member of the university, Tai blatantly preached "Hong Kong independence," advocated "achieving justice by violating the law," and played an important role in inciting the 2014 illegal "Occupy Central" movement, violent incidents in social disturbances since last year, and recent so-called "primaries" of the opposition camp, the spokesperson said.
The spokesperson said Tai went even further after being bailed pending an appeal and showed no sign of stopping until conspiring to paralyze the HKSAR government and seize the governing power of the HKSAR.
Tai's statements and actions intensified social controversies and poisoned the political environment, the spokesperson said.
The spokesperson also condemned Tai for taking advantage of his position to disseminate propaganda that confuses right and wrong, incite illegal activities, mislead numerous students, and politicize the campus, and stressed that there have been rising appeals from the alumni and students' parents to expel Tai from the campus.
The dismissal of Tai demonstrates that justice is done and that he gets what he deserves, the spokesperson said.