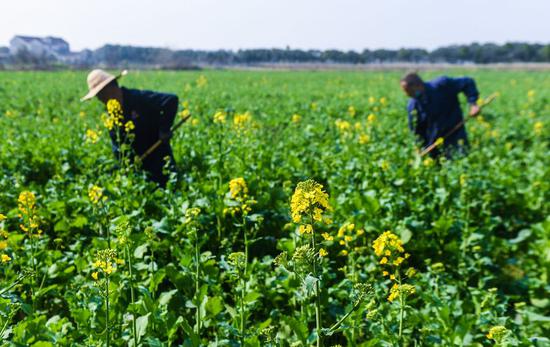 Employees of an agricultural cooperative work in a farm for its contractor who fails to come back in time for spring farming due to the outbreak of the novel coronavirus disease, in Yongfeng Village, Tongxiang City of east China's Zhejiang Province, Feb. 25, 2020. Local authorities offer a solution to farm contractors absent from spring farming due to the virus by promoting farm mandate. (Xinhua/Xu Yu)
Special: Battle Against Novel Coronavirus
President Xi Jinping underlined on Tuesday the importance of ensuring grain and food security amid the novel coronavirus epidemic.
Xi, who is also general secretary of the Communist Party of China Central Committee and chairman of the Central Military Commission, made the remark in an instruction on this spring's farm production.
Stabilizing agriculture and guaranteeing the security of grain and key nonstaple food are all the more necessary in the face of risks and challenges, he said.
While strictly implementing levels of epidemic prevention measures in different areas, Xi urged full efforts to organize spring plowing so the growing season will not be missed and a good summer harvest will be guaranteed.
He also issued instructions for strengthened modern agricultural infrastructure construction and the application of agricultural science and technology innovations to increase grain production and the ability to prevent and mitigate natural disasters.
Xi said Party committees at all levels should put activities related to agriculture, rural work and rural residents as the top priority and properly manage key tasks to secure victory in building a moderately prosperous society in all respects and reducing poverty.
Xi stressed the importance of laying a more solid foundation for agriculture and improving areas of weakness in terms of agriculture, rural work and rural residents.
That will help to provide strong support for winning the fight against the epidemic and fulfilling the economic and social development goals for the year, he said.
Premier Li Keqiang also gave instructions on governments and departments at all levels pushing forward epidemic prevention work as well as economic and social development in a balanced way with spring plowing near at hand.
The instructions were delivered at a video and telephone conference on the country's spring agricultural production work held in Beijing on Tuesday.
Agriculture, rural areas and farmers' issues remain China's top priorities for the 17th consecutive year as the nation's first policy document of the year released earlier this month continued to focus on rural issues.
Recently, a major agricultural area, Heilongjiang province, issued a list of awards to spur agricultural production as part of the effort to ensure market supply amid the country's fight against the novel coronavirus pneumonia outbreak.
The 10-item list includes a cash reward of 800,000 yuan ($113,800) to any livestock farm that achieves a daily production target surpassing 500 pigs.
A bonus of 500,000 yuan will be granted to farms that can meet the target of producing 50 to 100 tons of milk per day.
The list includes items to encourage big agricultural operators to drum up production in order to guarantee the supply of vegetables, meat, eggs, milk and other daily necessities in the market, according to the Heilongjiang Provincial Department of Agriculture and Rural Affairs.
The province, which has just ended the winter fallow season, is currently preparing for spring plowing.