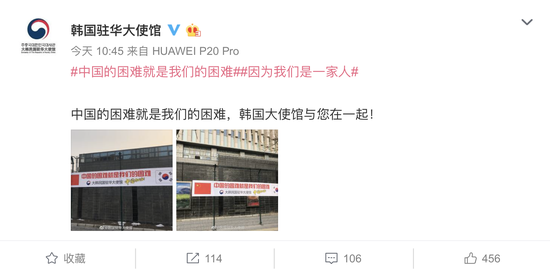 A screenshot of the South Korean Embassy's official Sina Weibo account showing its support of Chinese people.
Banners with the words "China's difficulties are ours" and "Stay strong China" in Chinese hang outside the Republic of Korea (ROK) Embassy in Beijing.
The South Korean Embassy posted images of the banners on its official account on Sina Weibo, a Twitter-like social media platform in China, on Tuesday morning, showing its solid support of China amid the novel coronavirus pneumonia outbreak.
Republic of Korea President Moon Jae-in said last week that the ROK government is willing to continue to "actively support China" in the fight against the novel coronavirus outbreak.
Moon met with the new Chinese Ambassador to the ROK Xing Haiming and received his credentials at the presidential palace Cheong Wa Dae, saying it is natural to help a "close neighbor" in need.
Since the outbreak of novel coronavirus pneumonia, many South Korean enterprises, including Samsung, LG, SK group, POSCO, Hyundai, DOOSAN, and Shinhan Bank China, and private individuals have provided face masks, protective suits, goggles and other medical supplies.
The South Korean Embassy in China and companies have also donated medical materials and funds to Wuhan, the epicenter of the novel coronavirus outbreak, in China's central Hubei Province.