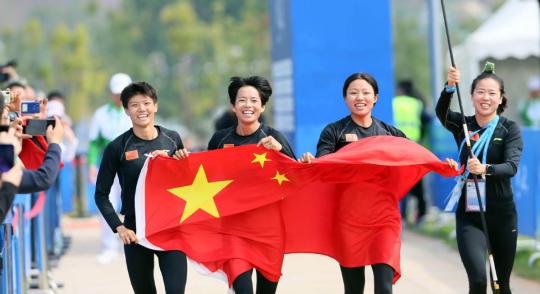 Lu Pinpin (from left), Wang Tanglin, Guan Chaonan and Sun Hongyan celebrate after winning the obstacle relay at the 7th Military World Games in Wuhan, Hubei province on Thursday. (HOU JUN/XINHUA)
Special: The 7th Military World Games
Chinese military pentathlon teams won five out of a possible six gold medals on offer at the 7th Military World Games in Wuhan, Hubei province, topping the gold tally for the sport and breaking several world records.
The military pentathlon is one of the most unique sports events in the Military World Games, with athletes competing in shooting, obstacle run, obstacle swimming, throwing and cross-country. It comprises three categories: individual, team and obstacle relay.
Athletes are ranked individually based on their combined scores, and the total scores of all athletes in a team determines that team's rank.
The People's Liberation Army's Bayi military pentathlon team outperformed other competitors and captured all four gold medals in the men's and women's individual and team events, which concluded on Wednesday. The Chinese women's team also beat its Russian counterparts and won another gold in the obstacle relay on Thursday.
Pan Yucheng broke the world record in the men's obstacle run on Sunday, as did Lu Pinpin in the women's run.
Aniu Ergu won the silver in men's individual. Lu, Guan Chaonan, Wang Tanglin and Sun Hongyan took the top four places.
"I feel very excited," said Li Chunmei, head coach of the women's team. "As a coach, I've been waiting for this moment for 10 years."
She said that her team members had become increasingly stronger from training and national tests, adding that she had dreamed about this achievement but "never thought we could get so many good results".
"It was a really tough year of training. I can only say, my girls and I, only we know what we have been through," she said.
The military pentathlon requires a range of skills that are close to actual combat capabilities and has been one of China's strongest military sports events. The PLA Bayi military pentathlon team, set up in 1980, has won more than 100 world championships with more than 60 people breaking world records, according to the Ministry of National Defense.
It has the largest number of gold medals, world records and awards for a Chinese military sports team in the world military arena.
In 2001, the Central Military Commission awarded the team the honorary title of "Hero Team of Military Pentathlon".
Li attributed the team's achievements to the accumulation of experience by generations of team members, and they are simply passing on that spirit.
She said they also hope to attract public attention to military personnel and military sports.
"We hope more people will learn about the military pentathlon through the military games and be willing to join this team and better serve the military through our training," she said.