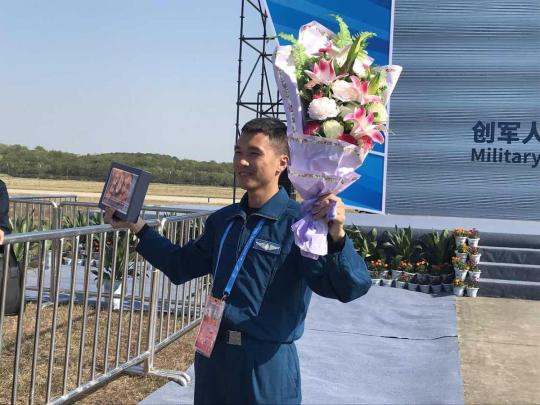 Liao Weihua wins the gold medal in the flying contest of the aeronautical pentathlon at the seventh CISM Military World Games in Wuhan, Hubei province on Oct. 19, 2019. (Photo by Zhang Yangfei/chinadaily.com.cn)
Special: The 7th Military World Games
Chinese delegation on top of medals table after first two days of competition
The People's Liberation Army's Bayi aeronautical pentathlon team, which was established in 2015, is aiming for more good results at the 7th Military World Games underway in Wuhan, Hubei province.
Team member Liao Weihua won gold in the flying contest-officially called low-altitude triangular navigation-on Saturday, beating contestants from eight other countries, including Finland, Denmark, Sweden and Lithuania.
Team leader Wang Haichen said he hoped the team could achieve more good results in its military games debut, and he was expecting the athletes to "stand on the podium in their military uniforms and watch the national flag rise".
The flying contest was the first event in the aeronautical pentathlon, a discipline born in France in 1947 that, despite its name, also includes six other sports: shooting, swimming, fencing, basketball, an obstacle race and orienteering.
Five male athletes and four female athletes from the team were selected to compete in this year's games, which kicked off on Friday and will last 10 days.
Established in September 2015 in Changchun, Jilin province, Wang said the young Chinese team lacked experience in competing in formal international competition.
He said it took the team half a year to welcome its first batch of members, and it went through an initial period of "bumpy exploration" regarding the selection of members, coaches and training venues and facilities.
"The coaches were drawn from other teams, and the selected athletes were not professional," Wang said, adding that despite its lack of experience he was committed to leading the team to fruitful results.
They started training from almost zero, with gold medalist Liao saying the athletes, at different levels and with no comprehensive training plan in place, had to explore training methods from scratch.
Wang said, "Aeronautical pentathlon is a very comprehensive program and requires a very high level of overall quality from each athlete, including physical, mental, intellectual and technical skills."
The variety and high requirements of the program were obstacles for the new athletes, many of whom were new graduates or specialized in other areas.
He Haoqin, for example, joined the team in 2016 at age 19. She was a boxer and was nearly eliminated from the team because she did not know how to swim.
She did not give in and started learning the basics of swimming, continuously challenging herself to go from 10 meters at first to hundreds of meters.
Ye Bangwu, the oldest member of the team and the only one not previously engaged in professional sports, was 23 when he joined the team in 2016.
"At the age of 23, many other athletes are already world champions, and I just started," he said.
After going through three years of intense training, Wang said all members were fully prepared for the games, but since the team members had no experience in Military World Games, they were not clear about their opponents' strength.
"We can only make up for it by improving our own capabilities," Wang said, adding that he hoped the games could help athletes learn from foreign counterparts how to improve their weaknesses and also promote friendship between countries.
He said the initial goal of forming the team was to improve the overall quality of pilot training.
"We want to gradually develop this team and spread batches of talent to the troops," he said.
"This was our initial intention but it will need to be planned from the upper level later."
The Chinese delegation won 12 of the 22 gold medals on offer on the first day of competition on Saturday. It also won four silvers and six bronzes to top the medal tally after the first day.
China's shooting team took the first gold in the 25 meter military rapid fire pistol men's team event. In the swimming contest, China collected another six golds and broke games' records in four events.
China remained on top of the medals table at publishing time on Sunday, with 26 golds, nine silvers and nine bronzes. Russia was second with 10 golds, followed by France and Uzbekistan.
In the road cycling races, China's Zhao Xisha was crowned women's individual champion, while the Chinese team won the gold of women's team competition on Sunday.
In the swimming events on Sunday night, Chinese swimmers claimed six of the eight golds on offer.