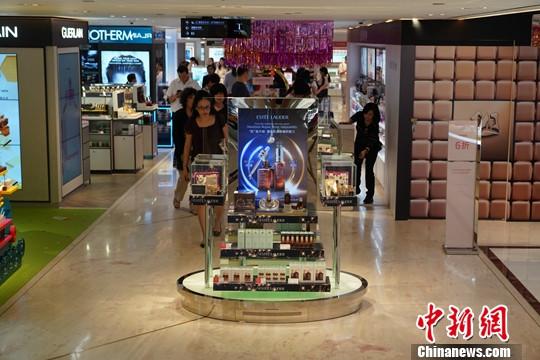 Few customers do shopping in a retail store at Tsim Sha Tsui situated in Yau Tsim Mong District of Hong Kong. (File photo/China News Services)
The total retail sales value of Hong Kong in August was provisionally estimated at 29.4 billion HK dollars (about 3.75 billion U.S. dollars), down 23 percent compared with the same month of last year, the worst on record, the Census and Statistics Department of China's Hong Kong Special Administrative Region (SAR) said Wednesday.
After netting out the effect of price changes over the period, the volume of total retail sales decreased by 25.3 percent year-on-year.
Compared with August last year, most categories of retail experienced a decline of sales value, with jewellery, watches and clocks, and valuable gifts down 47.4 percent, wearing apparel down 33.4 percent, medicines and cosmetics down 30 percent, and commodities in department stores down 29.9 percent, among others.
A spokesperson for the SAR government said that retail sales nosedived in August, registering the steepest year-on-year decline for a single month on record, which was even worse than that recorded in September 1998 during the Asian financial crisis.
The spokesperson said that apart from the weak consumer sentiment amid subdued economic conditions, the violent incidents severely disrupted inbound tourism and consumption-related activities.