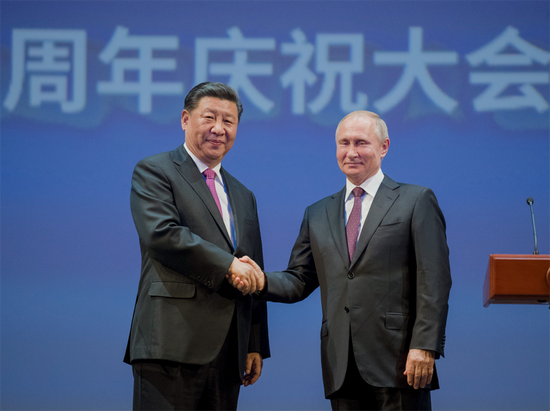 President Xi Jinping and his Russian counterpart Vladimir Putin attend a gathering marking the 70th anniversary of the establishment of diplomatic relations between the two countries in Moscow, Russia, June 5, 2019. (Photo/Xinhua)
Special: 70th birthday of PRChina
President: The nations have achieved highest level in major-country relations
The China-Russia relationship has achieved the highest level in major-country relations in terms of mutual trust, coordination and strategic value, President Xi Jinping said on Wednesday.
Xi made the remark as he exchanged congratulations with his Russian counterpart, Vladimir Putin, on the 70th anniversary of the establishment of diplomatic ties between the two countries. The former Soviet Union was the first country to establish diplomatic relations with the People's Republic of China the day after its founding on Oct 1, 1949.
In his congratulatory message to Putin, Xi said the Sino-Russian relationship has made significant contributions to maintaining world peace, stability and development.
Xi said that over the past 70 years, the two countries' ties have gone through an extraordinary path of development.
Thanks to concerted efforts, he added, China and Russia have set a good example for major countries and neighboring countries in developing a neighborly friendship and mutually beneficial relationship.
Particularly in recent years, under the joint guidance of Putin and Xi, strategic mutual trust between the two countries has been greatly enhanced, he said. The countries have provided each other with firm political support, made unprecedented progress in various areas of bilateral cooperation and had close communication and coordination in international and regional affairs, he added.
During his state visit to Russia in June, Xi and Putin jointly announced that the countries would upgrade their ties to a comprehensive strategic partnership of coordination for a new era. Xi said they had embarked on a new historic journey in bilateral ties, which have gained fresh vigor and vitality and will have broad prospects.
Xi called China-Russia ties very important and said he stands ready to work with Putin, using the 70th anniversary as an opportunity to intensify the countries' relationship, which features mutual support and assistance, deepened synergy, a pioneering spirit and innovation, mutual benefit and win-win cooperation.
Xi said he is willing to work with Putin to jointly guide China-Russia ties in the new era to produce new achievements, advance the building of a community with a shared future for mankind and make even greater contributions to world peace and development.
Putin said bilateral ties have successfully stood the test of time. Highlighting fruitful bilateral cooperation in various fields, he commended the two countries' coordination in multilateral platforms such as the United Nations, the Shanghai Cooperation Organization and the BRICS group of nations.
Putin wished Xi health and success in his work, wished the people of China happiness, and said he expects to continue the enhancement of bilateral cooperation so the two sides will contribute more to world security and stability.
On the same day, Premier Li Ke­qiang also exchanged congratulatory messages with his Russian counterpart, Dmitry Medvedev. The two nations agreed to deepen pragmatic cooperation and advance the comprehensive strategic partnership of coordination for a new era with joint efforts.