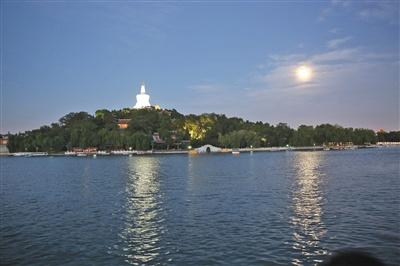 The moon hung over the Beihai Park in Beijing on Mid-Autumn Festival. (File photo/China News Services)
Chinese are celebrating Mid-Autumn Festival on Sept 13 - an annual festival that falls on the 15th day of the eighth month of the Chinese lunar calendar.
Traditionally a harvest festival to worship the moon, Mid-Autumn Festival, also known as the Moon Festival, has developed into a day for families to gather for a reunion.
People across China will enjoy a three-day holiday, with many packing their bags and traveling long distances to reunite with their families. To celebrate the day, they will share mooncakes, which are traditional festive Chinese pastries, and gaze at the full moon, if weather permits.
What are the festival's origins? Over the centuries, there have been different versions of the folklore behind it. Among them, the story of Chang'e is the most widely known.