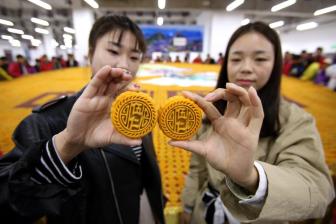 The classic taste "Wuren" of mooncakes.
With the Mid-Autumn Festival just around the corner, the mooncakes are the most talked-about topic. As a must-have traditional sweet during the celebration, a mooncake carries mixed feelings: Some love it because it is so delicious; others hate it because it contains too much fat.
But there are four solutions for you to enjoy it without gaining weight.
Solution 1: Mix with fresh vegetables
Mooncakes contain high level of sugar and oil, and each 100 gram can offer 20 percent of the daily energy supply for an adult. Therefore, it is better not to take more than 100 gram of mooncakes per day. It's highly recommended to take a mooncake as main meal, together with fresh vegetables and grains, which would help to digest and control caloric intake.
Solution 2: Drink tea
Green tea and mint tea can help to accelerate sugar metabolism and reduce the sweet greasiness flavor, which is a perfect match with the mooncakes. The water temperature for green tea should be under 70℃, otherwise the heat will damage the Vitamin C and catechinic acid that tea leaves contain. According to traditional Chinese medicine theory, both green and mint tea are cold natured, therefore those with a weak stomach should not drink too much.
Solution 3: Take it as breakfast
Due to high calories a mooncake contains, it is a good choice for breakfast when people need more energy supplement after a whole night sleep. A mooncake plus milk or soybean milk, vegetables and fruit equal a nice Chinese-style breakfast.
Solution 4: Eat less and exercise more
Last but not least, the most efficient way to avoid getting fat during the Mid-Autumn festival is to eat less mooncakes and do more exercise. During the three-day festival holiday, many cultural events are held around the city, such as temple fair, exhibitions, music concert, lantern shows and different forms of artistic performances, so it's good to walk around and appreciate the full moon and spend the night with your loved ones.