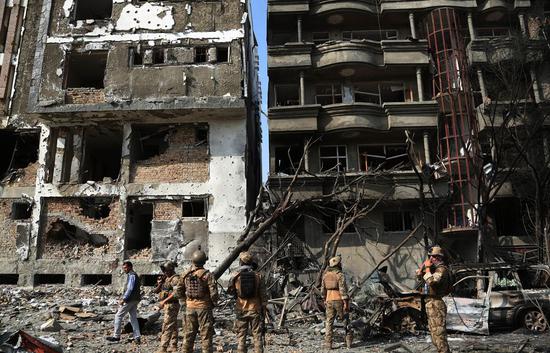 Afghan security force members inspect at the site of an attack in Kabul, capital of Afghanistan, July 29, 2019. (Xinhua/Rahmatullah Alizadah)
A Chinese UN envoy on Tuesday called on the international community to remain vigilant and "keep a watchful" eye on the global threat of terrorism.
Speaking at a UN Security Council meeting, Chinese Deputy Permanent Representative to the United Nations Wu Haitao said the world should foster an awareness of building a community of shared future for mankind and step up results-based cooperation in the joint fight against the threat of terrorism.
To this end, Wu said the purpose and principles of the UN charter should be upheld and the United Nations and the Security Council should be allowed to play a central role in coordinating counter-terrorism efforts.
He stressed the importance of taking a holistic approach by addressing the root causes as well as the symptoms of terrorism and focusing on eliminating the root causes.
He added that the international community should push for a political settlement of hotspot issues, assist member states in poverty reduction and eradication as well as sustainable development, and encourage dialogue and harmonious coexistence among different civilizations and religions on equal footing.
He underscored the need to step up international judicial cooperation and adopt tailored counter-terrorism measures in the light of emerging trend and new characteristics of terrorism.
He pointed to some prominent issues that need to be followed, including the diversified means of terrorist financing, the collusion of terrorist organizations with organized crime, and the abuse of the internet and communications technologies by terrorists.
Wu said the strength and expertise of relevant bodies and mechanisms should be fully leveraged, so that they can continue to contribute to terrorist threat assessments, capacity building efforts of member states and terrorist sanctions.
At the close of his remarks, the Chinese envoy said that as an important player on the international counter-terrorism front, China is deeply involved in counter-terrorism cooperation within the frameworks of the United Nations, Shanghai Cooperation Organization and so on.
China has been supporting member states' counter-terrorism capacity building and carrying out fruitful cooperation with many member states.