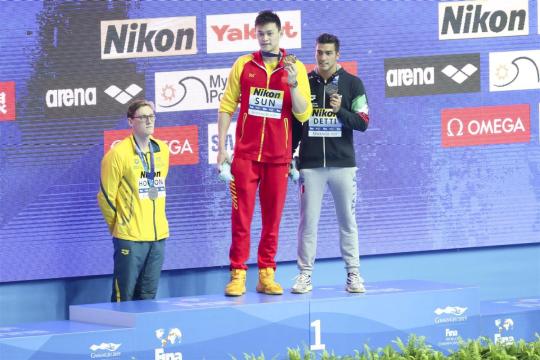 pic1-31242324
Mack Horton refused to stand on the podium next to Sun Yang after the latter won a record fourth straight 400m freestyle title at the FINA World Aquatics Championships in Gwangju, South Korea, on Sunday.
Sun led all the way to win in 3:42.44 for his fourth consecutive 400m triumph and his 10th individual gold medal at the FINA World Championships. Australia's Mack Horton took silver in 3:43.17 and Gabrile Detti of Italy finished third in 3:43.23.
Discussing Horton's refusal to stand on the podium next to him, Sun said: "Not everyone likes me. I don't care about it. It is also OK if you don't respect me personally, but during the victory ceremony, which is the most important event, we all represent our countries, you should stand on the podium, and show your respect to my country China and your country Australia and to the audience."
In 2016, Horton upset Sun to win men's 400m freestyle gold at the Rio Olympics. Horton clocked 3 minutes 41.55 seconds, eclipsing Sun by just 13 hundredths of a second at the Olympic Aquatics stadium.
The Australian swimmer previously dubbed his Chinese rival a dope cheat. Sun served a three-month ban in 2014 after testing positive to a banned substance. He said he unwittingly took the drug as part of treatment for a chronic heart problem.
In 2017, Sun took a sweet revenge by clocking 3 minutes 41.38 seconds, finishing 2.47 sec ahead of second-place Horton at the World Aquatics Championships.
Sun is now tied second with Ryan Lochte of the United States with 10 individual gold medals in the Worlds. The USA's Michael Phelps still leads the table with 15 golds from individual events.
Sun will also compete in the 200m and 800m and relay events in Gwangju.