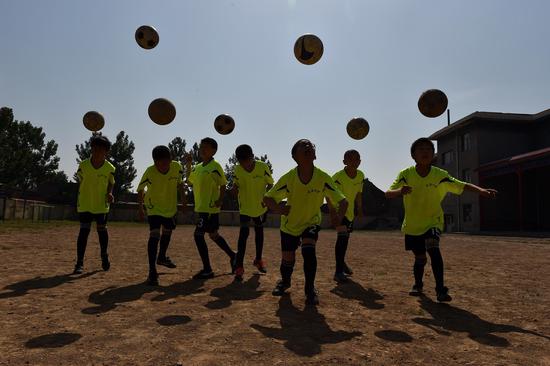 Students of Sima Primary School practise football in Xiaoyi City, north China's Shanxi Province, May 17, 2016. Many village schools have set up more sports courses during these years as they are encouraged to add more physical education classes if conditions permit. (Xinhua/Zhan Yan)
A new Chinese health action plan has called for better health knowledge among the country's primary, middle and high school students.
The plan proposed including health and first-aid skills in school exams.
Students' mastery of health knowledge and first-aid skills should also be an important appraisal criterion when deciding on awards and graduation, according to the plan.
China on Monday issued a new guideline to implement its Healthy China initiative.
The guideline proposed 15 special campaigns to "intervene in health influencing factors, protect full-life-cycle health and prevent and control major diseases."
In 2016, the Communist Party of China Central Committee and the State Council released the "Healthy China 2030" blueprint, which covers areas such as public health services, environment management, the medical industry, and food and drug safety.