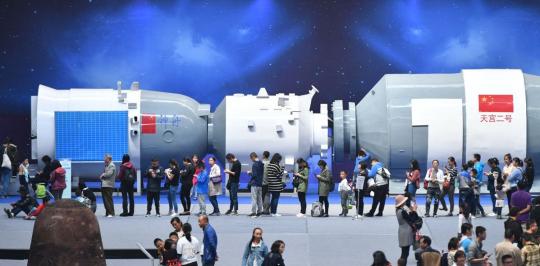 Visitors queue up to try out simulated games in front of a model of Tiangong-2 spacecraft at an aviation exhibition in Kunming, Yunnan Province. (Photo/China News Service)
China is developing a new type of recoverable satellite that is reusable and intends to use it for commercial purposes, according to China Aerospace Science and Technology Corp, a State-owned space giant in charge of the program.
The company said the new model will be designed to meet growing demand for space-based scientific experiments from a wide range of industries, including space science, agriculture, pharmaceuticals and energy. The first such satellite is scheduled to be launched in 2020, it said.
Zhao Huiguang, chief designer of recoverable satellites at the China Academy of Space Technology, said on Monday that researchers expect that 10 to 15 such satellites will be needed in the next decade by clients from home and abroad.
Zhao explained that the weightlessness inside the spacecraft will be beneficial to conducting many scientific experiments and recoverable satellites are the most suitable platform for such experiments.
Moreover, the research and development of new materials, electronic components and medicines have also benefitted from space-based experiments on such satellites, he said.
Compared with current recoverable satellites in China, the new type will feature reusability, better technology and stronger carrying capacity, Zhao said.
"Our current recoverable satellites are able to ferry 250 kilograms of scientific payloads back to Earth. The new model will be able to carry up to 600 kg," the designer said.
Officials from the academy previously said the new satellite series will weigh 3.5 metric tons and will be launched by China's Long March 2D carrier rocket at Jiuquan Satellite Launch Center in Northwest China.
The first of them will be tasked with assessing overall design and reliability in space, they said.
China launched its first recoverable satellite in 1975, becoming the third nation to do so after the United States and the former Soviet Union. China has sent 25 such satellites comprising seven types into space since then. These satellites enabled Chinese scientists to carry out hundreds of space-based tests and experiments.
The most recent mission by a Chinese recoverable satellite took place in April 2016 when the Shi-jian 10 carried out scientific experiments during a 12-day space journey before returning to Earth.
In another development, i-Space, a private rocket maker in Beijing, announced on Friday that it had recently conducted a successful ignition test of its JD-1, a reusable liquid-propelled rocket engine.
The company called the 200-second test a milestone in the development of JD-1, which is set to lift i-Space's SQX-2 carrier rocket.
SQX-2 is at the research and design stage and is scheduled to make its maiden flight in 2021, i-Space said.