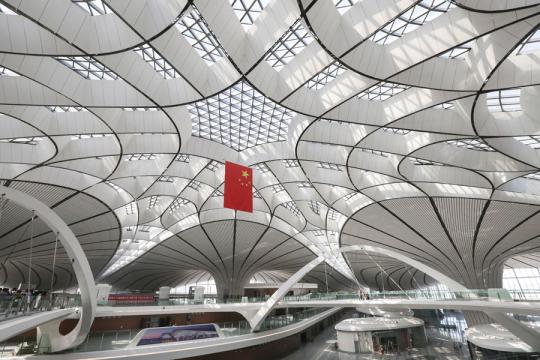 The construction of Beijing Daxing International Airport nears completion on Sunday. (Photo by Kuang Linhua/China Daily)
Simulation exercises running for more than two months will now test facilities
Building of the infrastructure for Beijing Daxing International Airport, which started in 2014, was completed on Sunday, marking the start of the preparatory stage of the airport's operation, according to the airport authorities.
The main construction projects, including airline bases, air traffic control tower, highway, intercity railway, high-speed subway line and other supporting facilities, were completed on schedule and passed inspection by the Civil Aviation Administration, the airport said in a news release.
Guo Yanchi, chief engineer in charge of the construction work, said the planning and design for the new airport was guided by its positioning as an international hub airport and the traffic it is expected to handle.
The terminal was designed to shorten the walking distance for passengers and provide as many aprons for aircraft as possible at the same time, Guo said, adding that it is only 600 meters, or less than an 8-minute walk, from the center of the terminal to the farthest boarding gate in each wing.
"It's more efficient for the passengers than any other large airport terminal of the same size in the world," he said. "The airport is also the world's first to be designed with double-deck departure and double-deck arrival platforms."
The airport has also adopted green and energy-saving concepts to incorporate natural light and seamless steel structure in its terminal design, Guo added.
To offer a more refreshing travel experience, five ancient-Chinese-style outdoor courtyards - with the themes "Silk Garden", "Tea Garden", "Porcelain Garden", "Countryside Garden" and "Chinese Garden" - feature at the end of the five departure lounges for use by passengers waiting for their flights, he said.
The airport is now organizing six large-scale simulation exercises for all departments stationed there to test its facilities and equipment. The exercises, running over more than two months, will see over 500 flights and handle 51,000 passengers and 35,000 items of luggage, according to the news release.
"The airport will also have to conduct several more test flights - for example, flying in low-visibility conditions - before being put into operation," Guo said.
The airport, which is planned to open before Sept 30, will act as a second international airport for Beijing to relieve pressure from rising demand for air travel on Beijing's Capital International Airport.
By 2021, the new airport is expected to handle 45 million passengers a year. By 2025, that number is expected to grow to 72 million.