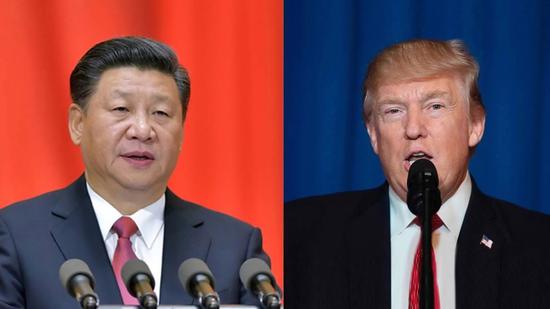 Combo photo. (Chinadaily.com.cn)
President Xi Jinping had a phone conversation with United States President Donald Trump on Tuesday.
Trump said he looks forward to meeting with Xi on the sidelines of the upcoming G20 Leaders' Summit in Osaka, Japan, to discuss in-depth bilateral ties and issues of common concern, Xinhua News Agency reported.
Washington values China-U.S. economic and trade cooperation, and it hopes that the working teams of the two sides will communicate and find solutions to their existing differences at an early date, Trump said, adding that he believes the world would like to see an agreement reached between the U.S. and China.
Xi said that China-U.S. ties have encountered some difficulties recently, which are not in the interests of either side. Cooperation benefits both countries, while antagonism harms both, he said.
The two sides should follow the consensus he and Trump reached and advance China-U.S. ties — featuring coordination, cooperation and stability — based on mutual respect and mutual benefit, Xi said.
As the two largest economies in the world, China and the U.S. should jointly play guiding roles, push the G20 Osaka Summit to yield outcomes and inject confidence and vitality into the global market, Xi added.
Xi said he is willing to meet with Trump on the sidelines of the summit and exchange views on fundamental issues related to the development of China-U.S. ties.
Xi stressed that the two sides should resolve their economic and trade issues through dialogue on an equal footing, and the key is to pay heed to each other's reasonable concerns.
China also hopes that the U.S. will treat Chinese enterprises fairly, Xi said. He added that he agrees that the economic and trade teams of the two countries should maintain communication on how to resolve their differences.