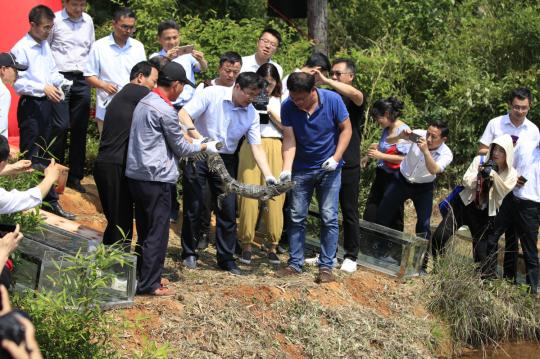 6
Local wildlife protection authorities in Anhui province have started a large-scale reintroduction program to increase the population of Chinese alligators in the wild.
A total of 120 Chinese alligators, also known as Yangtze alligators, were released into the wild on Monday at the National Chinese Alligator Natural Reserve in Xuancheng city.
The reptiles-30 males and 90 females-are 6 to 7 years old. They were chosen from nearly 500 alligators that were kept for years in an experimental area to adapt to natural circumstances, said Sun Siqing, deputy director of the reserve's administration bureau.
Eighteen have GPS devices attached to their tails, so that experts can track their living habits and get feedback for later reintroduction programs, said Sun, adding that large-scale events will continue.
It was the largest ever reintroduction program since the reserve, now covering 18,565 hectares, was founded in 1979.
The reserve had released only about a dozen reptiles in each of the annual reintroduction programs since 2003, according to Sun.
"After 40 years of protection efforts, we believe now is the right time to do the right thing," he said.
The breeding program in Anhui kicked off in 1979, after the International Union for Conservation of Nature added Chinese alligators to its Red List of Threatened Species in 1973, which means they faced an extremely high risk of extinction in the wild.
A Class I protected species, the Chinese alligators are native to East China, most living in Anhui. In 1979, the total number of the Chinese alligators was estimated to be around only 500. In order to increase the numbers, the province's wildlife protection authorities captured 212 wild alligators, and used them for artificial propagation.
So far, the reserve, which is mainly based in the suburbs of Xuancheng, is now home to more than 16,000 Chinese alligators, including newly hatched reptiles. It is the world's largest breeding center for the species, said Wu Rong, director of the administration bureau.
Before the latest reintroduction event, there were only about 200 alligators in the wild, including some that were born in captivity, but later released into natural surroundings, according to Wu.
In January, the provincial authorities released an action plan that said 1,500 bred Chinese alligators will be released into the wild in five years. The Xuancheng government has recently moved the local villagers out of the reserve's 5,188-hectare core area, so that the alligators' activities there will not be disturbed by people.