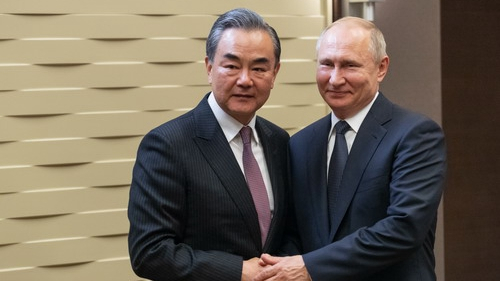 (Photo/Chinese Foreign Ministry)
Russian President Vladimir Putin said on Monday that Russia-China comprehensive strategic partnership of coordination is a priority in Russia's diplomacy, adding that he expects Chinese President Xi Jinping's visit to Russia in June.
Putin made the remarks during a meeting with Chinese State Councilor and Foreign Minister Wang Yi in Sochi.
The president congratulated China on the success of the second Belt and Road Forum (BRF) for International Cooperation.
"During the meeting with President Xi last month, we have reached important consensus to promote the cooperation between Eurasian Economic Union and the Belt and Road Initiative (BRI)," said Putin, adding that they also exchanged views on major regional and international issues.
Wang, for his part, spoke highly of Putin's contribution to the success of the second BRF.
"During my visit to Russia, Russian Foreign Minister Sergey Lavrov and I have made full political preparation for President Xi's visit to Russia in June," said Wang.
He added he believes that Xi's upcoming Russia visit will push bilateral ties to a new stage.
Putin and Wang also exchanged views on major hot-spot international and regional issues.