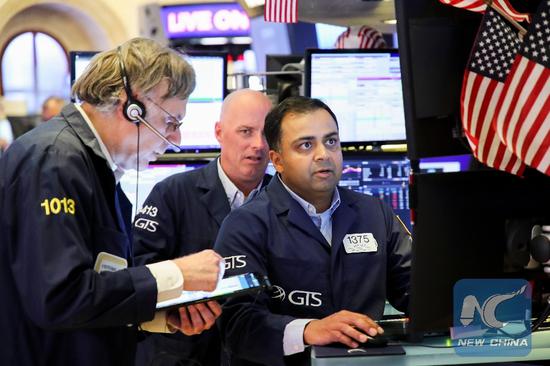 Traders work at the New York Stock Exchange in New York, the United States, on May 31, 2019. (Xinhua/Wang Ying)
U.S. equities posted sharp losses in May, with major indices registering the worst monthly performance so far this year amid escalating trade tensions, dim economic prospects and rising uncertainties.
For the last month, the Dow plunged 6.7 percent, extending a six-week losing streak. The S&P 500 lost 6.6 percent, and the Nasdaq dropped 7.9 percent.
Market volatility worsened in May after the U.S. government increased additional tariffs on 200 billion U.S. dollars' worth of Chinese imports from 10 percent to 25 percent on May 10, and threatened tariff hikes for more Chinese goods.
In response, China raised additional tariffs on a range of U.S. imports on June 1, and has vowed to "fight to the end" to safeguard not only its own rightful interests, but also the norms of international relations and the free trade system.
Analysts said that termite damage from the trade tensions is gradually building and the equity market has seen and will continue to experience ups and downs with trade news.
Citing the past two quarters as example, they noted that the trade tensions were a major contributor to the sell-off in the fourth quarter last year, and optimism about a benign resolution was a major factor in the rally in the first quarter.
"The trade war is gradually eroding U.S. business confidence and investment," said Ethan Harris, head of global economics at Bank of America Merrill Lynch, in a report on Friday.
He said a combination of improved growth expectations and tax reform boosted capital goods orders in the first half of last year, but they have been flat ever since.
As for business confidence, the seasonally adjusted IHS Markit Flash U.S. Manufacturing Purchasing Managers' Index (PMI) registered 50.6 in May, down from 52.6 in April, marking the lowest level since September 2009.
A separate report released by Bank of America Merrill Lynch on Friday said the escalating U.S.-China trade tensions pose a key risk to earnings.
The report said that the 2019 and 2020 consensus estimates have come down 0.1 percent and 0.3 percent, respectively, since the start of May, but with potential impact on economy and earnings, downward revisions may once again re-accelerate.
Nearly half of S&P 500 companies have mentioned trade or tariffs in earnings calls in recent quarters. Ten of the 11 S&P 500 industry groups retreated for the month, with technology plunging 8.9 percent.
Markets also reacted negatively to Washington's announcement of imposing a 5 percent tariff on all goods imported from Mexico, effective June 10.
Analysts said the latest rounds of trade tensions initiated by the United States will add to the uncertainty that is already hurting U.S. companies and its financial markets.
In view of the tensions in trade as well as high-tech areas, Vinay Pande, head of trading strategies at UBS Global Wealth Management's Chief Investment Office, told Xinhua that uncertainty is negatively affecting existing supply chains and future investment.
"Over time this poses the risk that the gains in corporate profit margins recorded over the last 15-20 years get eroded as costs of doing business rise," he said.